Celje Regional Museum, Slovenia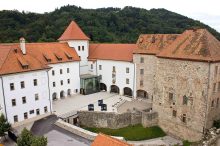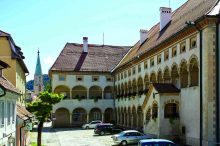 Celje Regional Museum (Pokrajinski muzej Celje)
is the
second oldest museum in

Slovenia

, founded in 1882
, and one of the largest
Slovenian
regional museums. It is situated on a beautiful place in the downtown of Celje, by the river Savinja. Most of the collections are exhibited in two main exhibition grounds: in the Old Counts' Mansion and in the Princely Palace. The museum's collections range in date
from the prehistoric times until World War I
. Visitors are enchanted by:
the famous Celje Ceiling, an exceptional example of profane painting from the period of transition from the late Renaissance to early Baroque;
the exhibition site Celeia – the town beneath today's town, in situ presentation of remains of Roman Celeia, with an area of 1000 square metres;
the story of famous dynasty of the Counts of Celje, one of the most influential Middle European noble families in the Late Middle Ages; and
the story of Alma M. Karlin (1889–1950), world traveler, writer, amateur researcher, polyglot and theosophist from Celje.
Alma M. Karlin travelled the world from 1919 to 1927. Travelling alone, she journeyed continuously for eight years, surviving on what she was able to earn through her own work.
The nature of her travels places her among the greatest travellers of all time
. Her collection includes items that she gathered during her journey.
Many of them originate from Asia and represent different Asian cultures
. Other items in the museum's Asian collection originate from other private collections. One of the oldest, the most interesting and most precious items of this collection is a
Samurai armour
. Asian items from these two collections are the subject of research projects.
Permanent collections:
Collection of Prehistoric Archeology
Roman Archeology
Cultural history collection
Regional Ethnology
Collection of Alma M. Karlin
Asian Collection
The Counts of Celje Collection
Collection of old Savinja ceramics
Collection of glass
View all Asia-Europe Museum Network (ASEMUS) members in Slovenia