UNIDEE residential course programmes 2016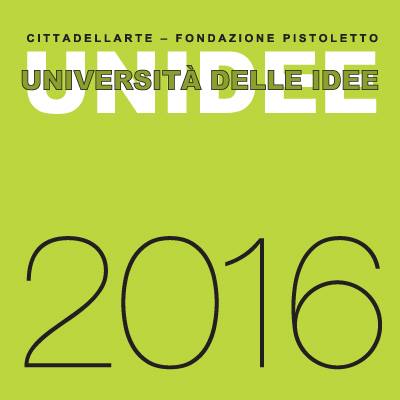 UNIDEE University of Ideas invites applications for its educational programme of residential modules, based on interdisciplinary research, at Cittadellarte in northern Italy and elsewhere. One specific call is for a young Indian artist (deadline: March 15), others are open to all applicants.
UNIDEE – University of Ideas is a multifaceted platform offering an educational programme of residential modules - taking place both at Cittadellarte and at academic partners' sites internationally - alongside a series of artists' residency projects.
Based on interdisciplinary research, knowledge sharing and experience exchange, the programme fosters processes of cross-pollination to investigate the relationship between art and public sphere.
As well as the
main educational programme
open to all applications where participants pay a contribution towards the costs,
some specific calls
are for:





CALL FOR APPLICATION FOR A RESIDENCY JOINT GRANT - INLAKS SHIVDASANI FOUNDATION AND CITTADELLARTE - FONDAZIONE PISTOLETTO 

Inlaks Shivadasani Foundation and Cittadellarte - Fondazione Pistoletto renew their partnership in 2016. Together they offer a joint grant, open to

young Indian artists

, for a 2 month long educational residency programme hosted by UNIDEE- University of Ideas. The open call is online and available on

Inlaks website

. 

Deadline for submissions: Tuesday, 15th March, 2016





CALL FOR APPLICATIONS FOR FIVE WEEKLY RESIDENTIAL MODULES GRANTS AT UNIDEE – University of Ideas at Cittadellarte – Fondazione Pistoletto
in Biella, Italy (Residency period: variable, April 18th – July 15th) & ONE PRODUCTION PRIZE worth € 3000,00 |

deadline March 14th





CALL FOR APPLICATIONS FOR THE SELECTION OF 8 PARTICIPANTS, INCLUDING 4 RESIDENCY GRANTS for Designing while Walking, Walking while Designing
a weekly residential module with the mentorship of Martino Gamper and guest Visible (Matteo Lucchetti and Judith Wielander) in June 2016 | deadline April 1st 




2 unfunded Research-based residencies for 2 months during SPRING 2016 or FALL 2016