from - to
24 Apr 2017 - 24 Nov 2017
UNIDEE - University of Ideas | 2017 programme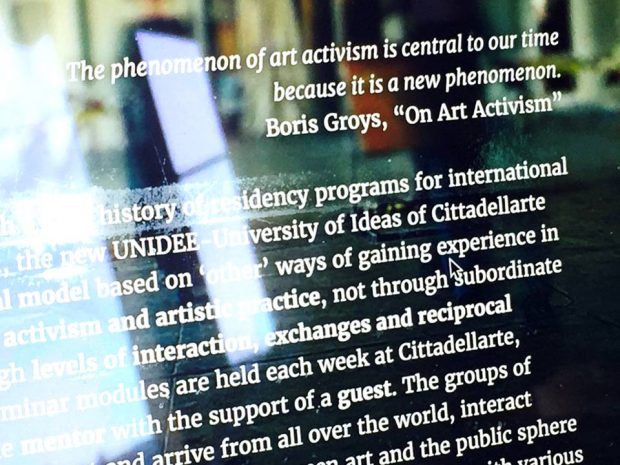 UNIDEE – University of Ideas
is a multifaceted platform offering an educational programme of residential modules - taking place both at Cittadellarte, Italy and at partners' sites internationally - alongside a series of artists' residency projects. The 2017 programme of residential workshops, courses and activities is published (most are around 4-10 days duration), with different application deadlines according to the event. The 2017 course programme will use an interdisciplinary approach to examine three macro-themes. They will be
Revolution
,
Desire
and
Mediation
, which are central to contemporary social-political debates as well as in the practices of many actors (artists, curators, public and private institutions, organisations, etc.) operating in the public sector. Now into its third year, and with a long history of residency programs for international students (2000-2013) behind it, the new UNIDEE-University of Ideas of Cittadellarte format proposes an
educational model
based on 'other' ways of gaining experience in the
meeting of critical theory, activism and artistic practice
, not through subordinate relationships but rather through
levels of interaction, exchanges and reciprocal interference
. Laboratory or seminar modules are held each week at Cittadellarte, moderated by a knowledgeable
mentor 
with the support of a
guest
. The groups of participants, who are always different and arrive from all over the world, interact intensely as they discuss and examine relationships between art and the public sphere in depth, starting from different practices and going through connections with various disciplines (from visual art to the theory of economical politics, music, etc.). Based on interdisciplinary research, knowledge sharing and experience exchange, the programme fosters processes of cross-pollination to investigate the relationship between art and public sphere.