Submit @ Panazorean Film Festival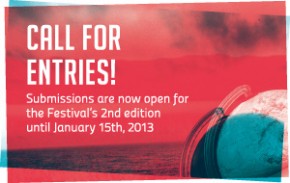 Looking to strengthen the dialogue between the people of the world we live in, depict the reality that we each take part of, and enjoy the manifold cultural diversity, are the main focuses of the
Panazorean Film Festival.
Panazorean will serve as a meeting point for directors, producers, researchers and the public to debate and reflect upon the topics of migration and inter-culturality. After the success of the first edition, the extensions that were held this summer and of a recent journey to Argentina, the Panazorean International Film Festival has announced the registration opening for its second edition. The festival is already scheduled (from 11th to 20th April 2013) and it promises new sections and the same passionate reflection on migration, cultural diversity and cross-cultural dialogue. Exhibitions, debates, masterclasses and concerts will also be part of the event.
Panazorean is accepting international, national and regional films. We welcome the submission of short and long features focusing on migration and intercultural subjects in any genre -fiction, animation, documentary or experimental.
You can submit your movie for free by filling the submissions form at
www.panazorean.com
Deadlines for submission are:
- until 15th January 2013 for national and international movies
- until 1st March 2013 for regional and 'schools' movies