Salzburg Global Forum for Young Cultural Innovators 2020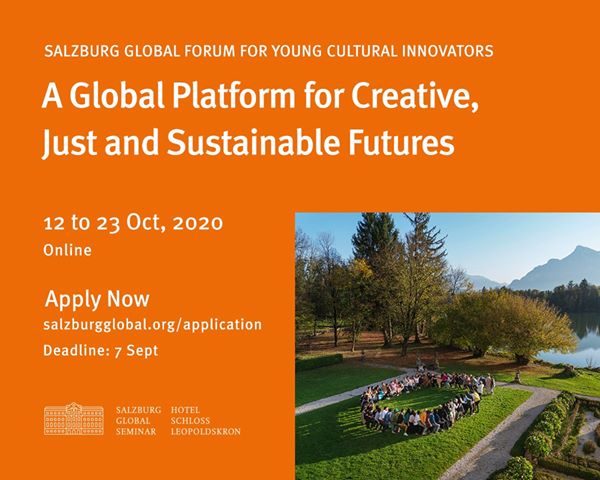 In 2020, the annual meeting of the Salzburg Global Forum for Young Cultural Innovators (YCIs) will take place virtually from 12 to 23 October, and will bring together 60 YCIs from around the world. Applications open to YCIs from eligible hub communities in various cities and regions of the world.
Communities around the world are facing radical social, environmental, political, and economic disruption, confronting complex challenges that range from the COVID-19 pandemic to structural inequity and racism, outdated systems of education and work, and climate change. The cultural sector is essential to regenerate and energize societies but artists and creative innovators have never been in a more precarious situation.
Shaping a creative, just and sustainable world calls for action at all levels and collaboration across many sectors. We need bold ideas and innovation to build a more vibrant and resilient arts sector that can advance inclusive economic development, positive social change, and urban transformation for livable cities. The Salzburg Global Forum for Young Cultural Innovators (YCI Forum) aims to do this by connecting, empowering and supporting rising talents in the creative sector across every continent.
Launched in 2014, the YCI Forum is building a global network of 500 competitively-selected changemakers in "hub" communities in more than 20 cities and regions around the world. The YCI Forum network is multi-disciplinary and encompasses creative disciplines ranging from the visual and performing arts, literature, and cultural heritage, to foods, fashion, architecture, and design.
The annual program is the first step towards a long-term engagement and participation of YCIs in a dynamic global network, with YCIs continuing to work together at the local level in their YCI Hub, while also remaining in touch with wider global YCI network. The Forum links individuals and communities with one another through an annual program, follow-up events, inter-hub exchanges, cross-border projects, and other activities.
Eligible applicants must be from YCIs who you live and work in one of the designated YCI Hub locations. Please see application info for full details. Within ASEM countries of Asia and Europe applicants may come from:
Malta
Manila, Philippines
Mekong Delta: Cambodia, Vietnam, Laos, and Thailand
Tokyo, Japan
Salzburg, Austria
More information on how to apply here: https://www.salzburgglobal.org/go/656
Deadline for applications: 7 September 2020