Recruiting Citizen Historians and Story Scholars in Bangladesh, India, Pakistan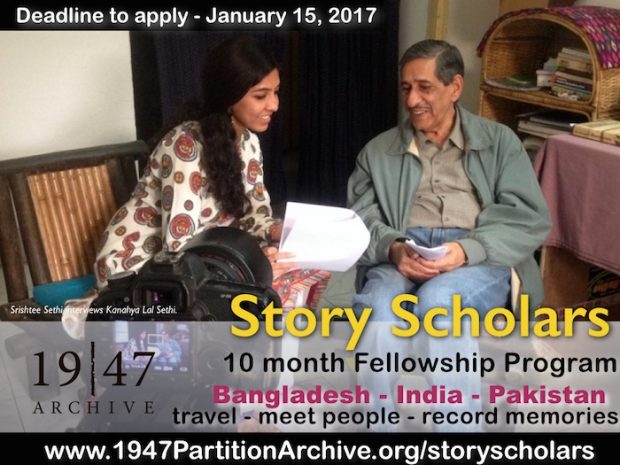 2017 marks the important 70 years anniversary of Partition in the Indian sub-continent. There's a great programme run by the 1947 Partition Archive to recruit Citizen Historians from across India, Pakistan and Bangladesh as Story Scholars  and Oral History apprentices to record the memories of the period.
APPLICATION: STORY SCHOLARS PROGRAM -AND- ORAL HISTORY APPRENTICESHIP PROGRAM


It's been almost 70 years!  There is a great urgency to record stories now.  Join us through this special program for the final years of story collection.  Below, please find the application, instructions and program description for two of our story collection programs, the Story Scholars Program which is a full time commitment and the Oral History Apprenticeship which is a part time commitment.

The 1947 Partition Archive is now accepting applications for our Story Scholars Program in South Asia. You may apply to one of our funded districts listed (see website) or define your own region within South Asia where you think stories should be collected.  In the questions below, you will be asked to justify your choice with evidence.

Deadline for applications: 15 January 2017