New Delhi | job opportunities at Khoj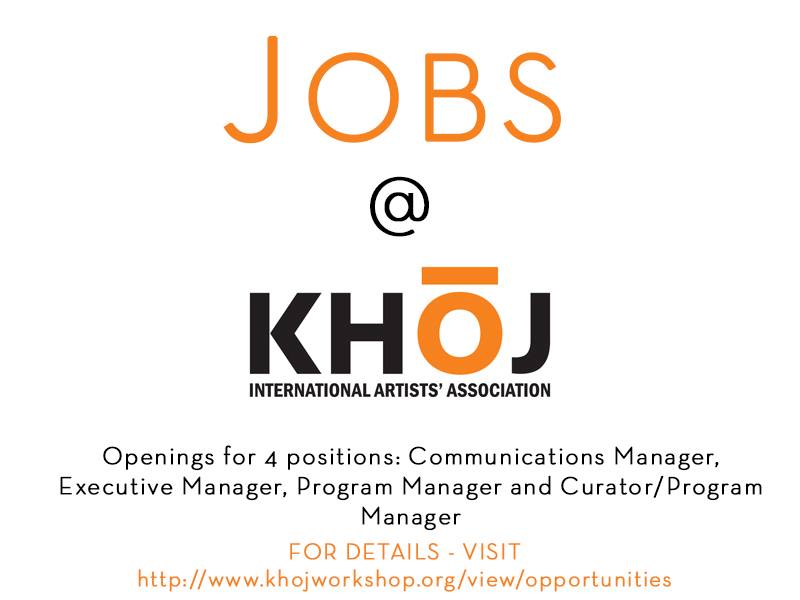 Khoj International Artists Association in New Delhi is currently advertising several job opportunities. Khoj International Artists' Association is a registered Society, based in Khirki Extension New Delhi. Khoj aims to connect creative practioners and catalyze interdisciplinary collaboration and experimentation to create new possibilities of art and art-making. It seeks to build networks and informed audiences who engage critically with contemporary art.
Khoj is seeking applications for the positions of 
Programs Manager
, 
Curator & Programs Manager
, 
Communication Manager
 and 
Executive Manager
.
began as a proposition: a space for artists, run by artists.
From its modest beginnings in 1997 as an annual workshop, it has built an international reputation for outstanding alternative arts incubation. It plays a central role in the development of experimental, interdisciplinary and critical contemporary art practice in India, constantly challenging the established thinking about art.
With a focus on building networks, developing alternative pedagogies and learning through collaboration and exchange, Khoj programmes have nurtured vibrant imaginations and created unconventional synapses between art and disciplines such as science, architecture and fashion. Moreover, Khoj facilitates change by encouraging artists and audiences to engage with vital concerns such as ecology, sustainability and community
participation.
Deadline: 25 July, 2013