Mekong Cultural Hub / British Council SEAΔ 2020-2021 programme call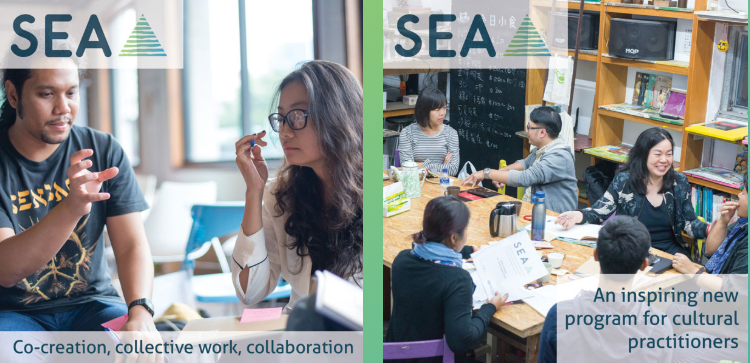 Applications invited from eligible cultural practitioners ready to take the lead on how arts and culture engage with sustainable development in South East Asia to join the SEAΔ programme 2020-21. Each year 10 Fellows from 10 countries are selected: Cambodia, Laos, Myanmar, Thailand, Vietnam, Malaysia, Indonesia, Philippines, Taiwan and the United Kingdom.
SEAΔ is a program co-created by Mekong Cultural Hub and British Council that creates space for cultural practitioners to reflect on how their work in arts and culture can contribute to sustainable development within South East Asia through their individual and collective leadership. The focus area for sustainable development in 2020-2021, is Biotrade.
The program has 4 main gatherings spread over a one-year period where Fellows get together. Each gathering takes place in a different country and has a unique purpose: exchange, create, share then reflect. The 2020/21 programme runs between November 2020 and September 2021.
SEAΔ is designed to give Fellows the chance not only to expand their networks with other creative practitioners from around South East Asia, but also to meet people who don't work in the arts.
Throughout the program the Fellows will work closely with 3 people who work as Project Managers for SEAΔ partner, Helvetas, an independent Swiss development organization that is building capacity in Africa, Asia, Latin America and Eastern Europe. Through this collaboration there will be a chance for culture and arts practitioners and sustainable development professionals to have two-way exchange and learning from one another. It will offer SEAΔ Fellows a unique chance to develop new perspectives about the similarities and differences between arts and culture and the development sector. And it will offer SEAΔ Fellows a practical experience of working with non-arts partners and communities to solve social and development challenges.
Who is eligible for SEAΔ? To be eligible to apply to SEAΔ you must be a citizen of one of the eligible countries, resident in that same country for the majority of the year, and fit the profile:
1. Committed to a career in arts and culture (with at least 5-10 years existing experience in the sector)
2. Are already engaging with social and development issues through your work in the arts and culture
3. Are active and engaged in the arts sector in your home country
4. Have led other people in making projects or programs happen in your home country (this can be informal)
5. Have some experience of working with regional peers/partners (whether at home or in another country)
6. Be able to communicate comfortably in English (speaking and listening essential, and basic reading and writing for email communication needed) which will be the shared language of the program
Please see application pack for how to apply: https://mekongculturalhub.org/wp-content/uploads/SEAD-Application-pack-2020-21-FINAL-1-1.pdf
Deadline for applications: 15 July 2020