Japan | Sapporo Tenjinyama Art Studio | residency call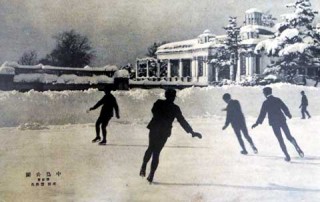 Open call to artists and creators for a winter 2015 residency at Sapporo Tenjinyama Art Studio. Focusing on three key words;
winter, snow and Sapporo
, each artist is expected to deepen their ideas through production. Three artists will be selected for a 4-week residency starting end January 2015.
Sapporo Tenjinyama Art Studio, which opened in summer 2014 in the city of Sapporo contains artist-in-residence facilities. In this quiet, natural environment in the Tenjinyama green zone are 13 studio apartments, exhibition areas, and a studio where citizens can interact with each other (charged for the use). A free rest station in Tenjinyama Park is also one of the features. The atrium lounge on the first floor is a common area where anyone can drop in freely, and artists participating in the program and citizens can communicate with each other on a daily basis through various events, presentations by artists and their open-to-the-public productions.
Period for staying at studio:
Within 4 weeks in total from January 27 (Tue.) to February 28 (Sat.), 2015
* Artists are requested to be at the studio during the project period from February 1 (Sun.) to 22 (Sun.)
Number of participating artists:
3
Contents:
Production plan concerning the project and presentation of the artwork in line with the theme, and proposal for workshop programs.
Conditions and qualifications:
・Irrespective of nationality, place of residence, age (18 and up), sex and genre
・Applicants must have a history of activities in areas related to his/her artist-in-residence program (diverse areas including fine arts, music, craft, theater, dance, literary arts, photography, film and design).
・Artists/creators selected must understand the objective of the residence program and report their results. (The form of how to report their results is decided by mutual agreement.)
・Artists/creators are expected to participate in citizens' exchange programs to be held at the Art Studio.
See guidelines for full details of what is offered - main elements:


The studio rent and heating expenses are free.


The amount of ¥150,000 is provided uniformly to each artist (artistic group) to help them with expenses of activities, transportation to Sapporo, production cost.


About the open call to the residence program 2014:
The city of Sapporo with residents as many as 2 million living in such a cold, snowy district is a rare large city in the world. As it snows heavily in the winter of Sapporo, residents are forced to live in an environment totally different from the circumstances in summer. Fighting against difficulties such as snow removal and damage, they have built up some ways to coexist with snow. In attempts to coexist with snow, ranging from road-heating and underground passages in infrastructure and transportation to residents' daily activities, behaviors and winter entertainments including sports and snow festivals, all sorts of creative activities to vitalize the city are implemented.

After the opening, Tenjinyama Art Studio, where direct communication between visiting citizens and participating artists has been promoted naturally, will see its first winter. The scenery with rich greenery at Tenjinyama will change completely. Perhaps, there may appear an ideal place for creativity only found in winter. Making the most of that environment, the regional vitalization project will be conducted through art, viewing positively the lifestyle and city life in winter.

Focusing on three key words; winter, snow and Sapporo
, each artist is expected to deepen their ideas through production. Through creating the work environment in winter and workshops and presentations by artists, the project will lead to the experimental introduction of creative experience in winter in the community. We look forward to receiving applications from many artists and creators.
Deadline: 14 December 2014