Japan | Akiyoshidai International Art Village Residence call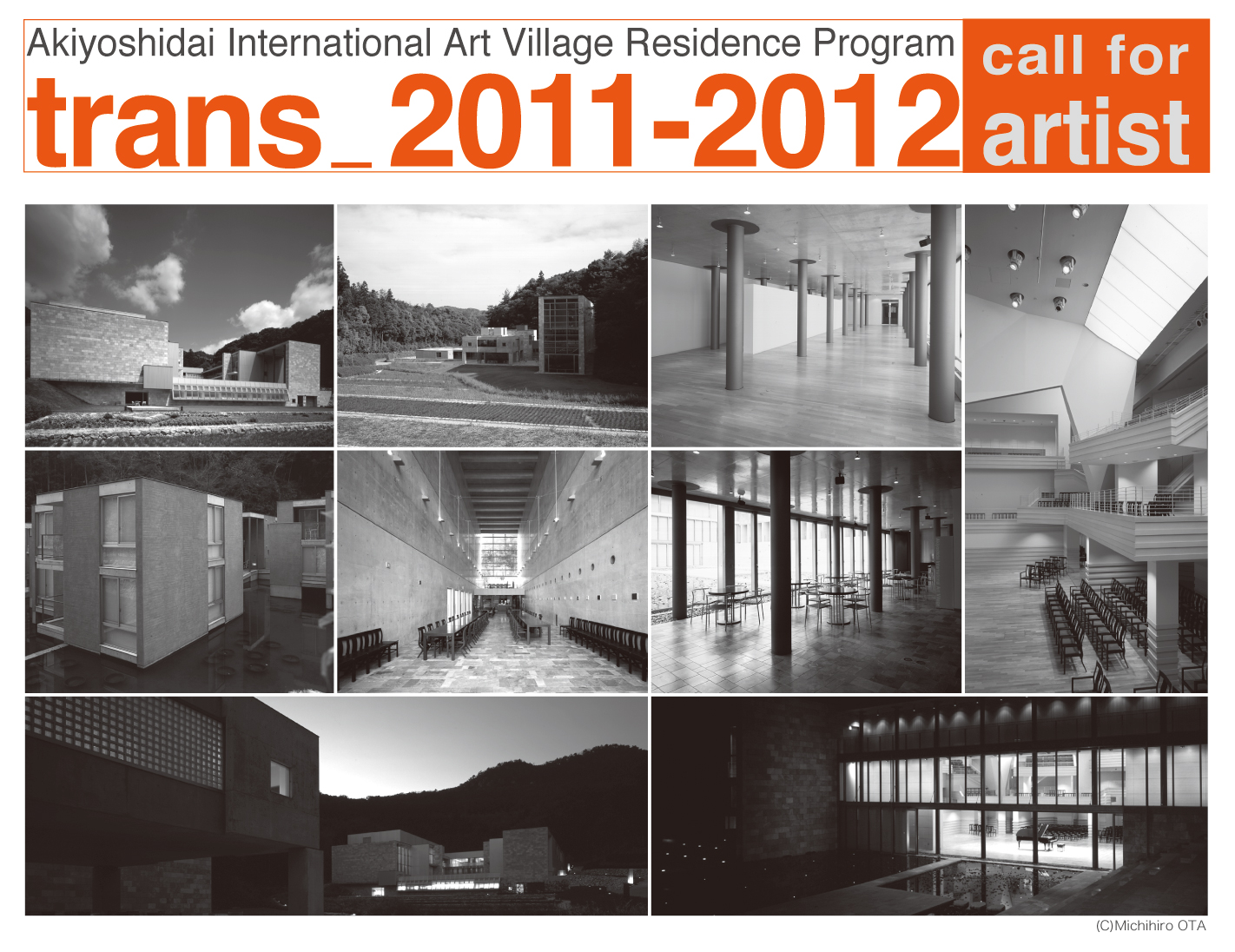 trans_2011-2012 Residence Support Program at Akiyoshidai International Art Village in Yamaguchi, Japan is now open for applications from artists around the world for residencies in 2012. Studio, travel, production costs and other grant support provided.
Trans is a prefix which means to go beyond, get across, cross, exchange, change and convert. The Residence Program provides a time and place for artists to experience new encounters and carry out experiments for their future projects. Participating artists are expected to bring new ideas to the local culture and people while they, in turn, will acquire new views through new encounters. As a result of the residence program, the artists will convey their new experiences, from the local's vernacular lifestyle to its peculiar geographic conditions, to their next destination. We hope that the residence program at Akiyoshidai International Art Village becomes a space for artists to go beyond cultural borders, exchange their unique perspectives and establish relationships with fellow artists.
The aim of the
Residence Support Program
is to support young artists' experimental artistic activities, crossing the borders of art disciplines and nationalities. The artists will be carefully selected by the Selection Committee of the Residence Program of Akiyoshidai International Art Village. During the residency period, artists will create new ideas and works in collaboration with AIAV curatorial staff. We strongly hope that selected artists will actively communicate with local people in Yamaguchi, participate in different projects, including workshops, lectures, school visits to exhibitions.
Residency period
: 12 January - 22 March, 2012 [70days]
Number of artists accepted
2 artists of any nationality living outside Japan, 1 artist living in Japan or living abroad with Japanese nationality
*Groups of 2 artists may apply, but no larger
*Artists cannot be accompanied by anyone including family and collaborator.
Eligible applicants
Artists who are able
- to stay at AIAV for the designated period of time.
- to produce results of his or her residence activities, e.g. exhibitions, performances, concerts or presentations (Exhibition: 3 – 18 March, 2012)
- to communicate with local people and participate in the exchange program, e.g. talks, lectures and workshops in English.
- to provide materials for publicity and archiving in accordance with AIAV's requirement
- to participate in education programs at local school and university
Support
- Travel expenses: round trip from your address to AIAV (international flight tickets should be return: single tickets cannot be accepted)
- Accommodation at AIAV
- Studio (there are various types of studios: the allocation of studio is decided by AIAV)
- Production expenses = 230,000 yen (individual/group)
- Per diem = 2,800yen × day
- Insurance (only basic injury or illness will be covered, therefore, it is advisable to have your own insurance)
See website for further details
on how to apply, decision process etc.
——————————————————————————–
This opportunity came via
Artservis
(Thanks!)
——————————————————————————-