Guldagergaard International Ceramic Research Center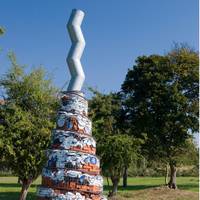 [caption id="attachment_7552" align="alignright" width="200" caption="Guldagergaard | Copyright © 2010"]
[/caption]
Residency opportunities for ceramicists, artists, designers and craftspeople at Guldagergaard International Ceramic Research Center in Denmark.  Several application deadlines through 2011.
Guldagergaard is an international ceramic research centre for development of ceramic art, craft and design. International artists and designers come for studio residencies, workshops and symposiums focusing on contemporary themes.
The residency programme offers artists, designers and craftsmen the possibility of working together, thereby increasing artistic development, professional experience and network. The programme combines an international atmosphere and wide professional dialogue within a concentrated work period, with the exchange of knowledge and research into materials, techniques and ideas.
Guldagergaard offers accommodation, studio space, technical staff, equipment and a variety of larger electric, gas and wood fired kilns.
Application deadlines are:  15th February, 1st June, 15th August and 15th November.

Guldagergaard welcomes applications from anyone working professionally in the field of ceramics from Denmark or any other country.
See website for application guidelines and costs
.
Guldagergaard is beautifully situated in an old farm house in the small harbour town of Skælskør app oximately one and a half hours from Copenhagen. The idyllic town is surrounded by an area of natural beauty. You can easily reach Guldagergaard from the airport by public transport.