Frankfurt Book Fair | Fellowship Programme 2014 for young international publishers


Frankfurt Fellowship Programme 2014: focus on children's and young adults books - is open for applications from young international publishers. In the run-up to the Frankfurt Book Fair this prestigious Frankfurt Fellowship Programme focuses on information exchange, professional dialogue and the creation of networks between young international publishers.
First launched to mark the 50th anniversary of the Frankfurt Book Fair in 1998, the Frankfurt Book Fair Fellowship Programme provides information and networking within the international publishing world. During those last fifteen years, more than 260 participants from 48 countries have gained so far from this experience.
The 2014 programme will, for the first time, be geared exclusively toward publishers, editors, rights and licensing professionals, agents and product managers specialised in children's and YA books (print and digital).
More about the Programme:
Qualifications:



several years' experience in publishing


good knowledge of English


basic knowledge of German recommended





recommendation from applicant´s own employer


three letters of recommendation from international business partners


DEADLINE for applications: 30th April 2014
Applications from Asia: Applicants from Bangladesh, India, Nepal, Pakistan and Sri Lanka send please their applications to the German Book Office (GBO) in Neu Delhi. Contact: Prashasti Rastogi rastogi@newdelhi.gbo.org
FAQ Frankfurt Fellowship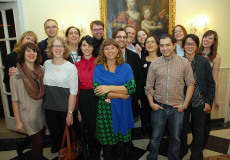 Is there an age limit?
There is no official age limit, but the programme is aimed at young professionals. Most Frankfurt Fellows are between 30 and 40 years old when they take part in the programme.
Who should write the three letters of recommendation?
The letters of recommendation should be written by international publishers, editors, foreign rights directors/managers or literary agents with which the applicant has worked. Recommendation letters written by authors cannot be considered.
Who can be considered for the Frankfurt Fellowship?
Publishers, editors, rights and licensing professionals, agents and product managers specialised in children's books (print and digital) can apply for the Frankfurt Fellowship.
Costs
Travel expenses and accommodation while staying in Germany are covered by the Frankfurt Book Fair. This also goes for part of the food expenses until October 5th. Participants are responsible for covering their travel costs to Frankfurt and back.
How is the procedure during the Frankfurt Book Fair? Can I arrange my own appointments?
From the 6th October to 12 October, there will only be evening engagements within the Fellowship programme (on Monday, Tuesday, Thursday and Saturday). During the day, the Frankfurt Fellows can arrange their own appointments.
What should I do if I need a visa?
Fellows who need a visa will receive an invitation letter from the Frankfurt Book Fair after being selected for the programme.