ENCATC | 2 cultural management and policy research calls - extended deadline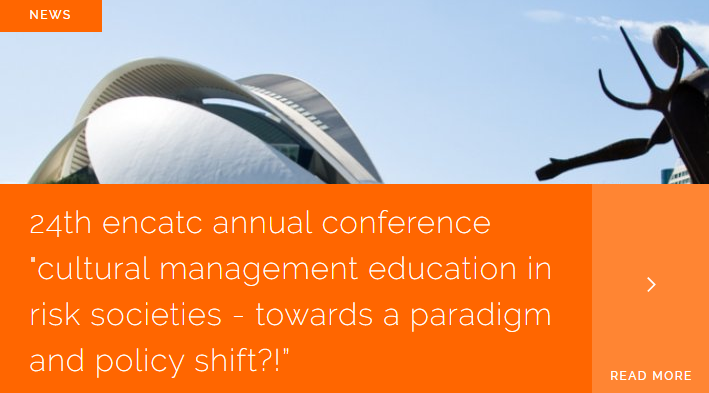 Deadline extended! ENCATC has launched two research calls to both collect the
latest research trends and developments
 and
reward excellence
in the field of
cultural management and policy
. Don't miss this opportunity to
present your work
to a
wide international audience
with 
publishing opportunities
to advance your career!


The 7th Annual ENCATC Research Session will be held in the framework of the 24th ENCATC Annual Conference in Valencia, Spain. Senior and emerging researchers and leading academics are invited to submit abstracts from any relevant discipline, provided that they make an original academic contribution to the study of cultural management and policy.


Papers are welcome on all arts management and cultural policy areas including:
 Arts and culture education
 Cultural policy and arts management
 Culture and local, regional and national development
 Cultural heritage management
 Cultural and creative industries
 Culture in external relations and cultural diplomacy
 Cultural networking
Research in the following subject areas is particularly welcome:
 Digital means for audience development
 Participatory governance of cultural heritage
 Cultural and creative sector: entrepreneurship and innovation
 Promotion of cultural diversity: cultural external relations
 Monitoring culture and creative interventions: urban futures and social engagement
Download the CALL
EXTENDED - DEADLINE TO SEND AN ABSTRACT: 1 JULY 2016
2. The
ENCATC Research Award on Cultural Policy and Cultural Management
is granted to a recently published
PhD thesis
exploring, through comparative and cross-cultural research, issues at stake and taking a step from evaluative (descriptive) to comparative applied research. In addition, the ENCATC Award is rewarded to a PhD thesis that can inform policymaking and benefit practitioners active in the broad field of culture.
The
ENCATC Award targets
emerging researchers in the field of cultural policy and cultural management up to 35 years of age from Europe and the rest of the world.
Download the CALL
DEADLINE TO APPLY: 30 JUNE 2016
ENCATC
 is the european network on cultural management and policy. Established in 1992, ENCATC is a network of more than 100 member institutions and professionals in over 40 countries active in education, training and research within the broad field of cultural management and policy. ENCATC members have an impact on the education of thousands of cultural managers worldwide.