Closing Soon! Sydney Film Festival | Apply Now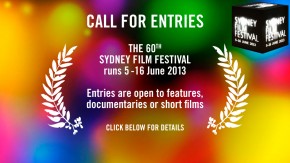 The deadline to submit at the annual
Sydney Film Festival
is approaching soon!
The 60th edition of the festival will run from 5th to 16th June, 2013 in Sydney, Australia. Sydney Film Festival will showcase the best in cinema from across Australia and around the world, including features, documentaries, short films, retrospectives, restorations, animation and more.
Entries are open to features, documentaries or short films (under 40 minutes) in all sections of the festival program including:



The FOXTEL Australian Documentary Prize (cash prize $5,000)




The Dendy Awards for Australian Short Films Live Action Award and Best Director Overall - both cash prizes of $5000 sponsored by Dendy Cinemas




The Yoram Gross Animation Award (cash prize $4,000)





The Sydney Film Festival is recognized on the Academy®'s Short Film Awards Festival List so winners of the Live Action and Animation Awards become eligible for Academy Awards® consideration!


Check www.sff.org.au for full eligibility criteria and submission details.
Entries close 5pm Wednesday 27 February 2013.