Cambodia International Film Festival – Call for entries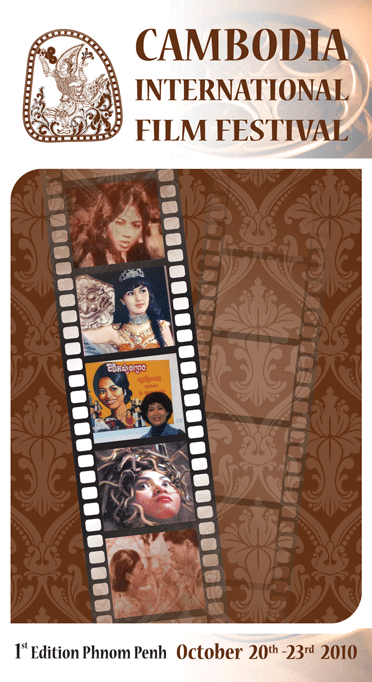 The Cambodia International Film Festival is hosted by the Ministry of Culture and Fine Arts and organized by FX Entertainment in association with the Cambodia Film Commission, Kmy Films and the Association of Filmmakers of Cambodia.
The 1st annual Cambodia International Film Festival (CIFF) is scheduled for October 20-23, 2010, in Phnom Penh. This exciting event brings international filmmakers to screen their latest movies and share their skills with Khmer filmmakers. Events will be open to the public alongside invitation-only galas and workshops designed for local film industry development.
Throughout the festival, movies screen at several venues in Phnom Penh. Public screenings are shown at outdoor venues. Types of movies include international independent films, award-winning documentaries, classic and modern Khmer films, youth-oriented films and films made in Cambodia, as well as showcasing some of the best locally produced TV dramas and music videos.
In addition to screenings, the festival hosts the Cinema Industry Showcase at which booths display the latest equipment, products and services available for making movies in Cambodia. There is also a strong emphasis on tourism with the opportunity to promote Cambodia as a country with a rich culture - perfect for destination travel.
All events of the festival are designed to benefit the local economy and culture through educating the local film/TV sector, inspiring good citizenship and entertaining audiences. The festival also helps increase tourism as people around the world see movies made in Cambodia because of the local industry development.
The Cambodia International Film Festival is the largest cinema event in Cambodia. For 4 days, film lovers, filmmakers, industry professionals and media watch the best in new cinema from established masters and new talent. Up-and-coming Khmer filmmakers gain unparalleled insight into the workings of the international market. The Festival also provides excellent resources and networking opportunities for film-industry professionals and buyers.
The 2010 Cambodia International Film Festival will include, but will not be limited to, the following programmes: Galas, special exhibitions, feature films, short films , documentaries, youth program.
Selected films will be placed in the appropriate programme by the Festival Organizing Committee in consultation with the filmmaker.
In addition to the Festival , the CIS (Cambodia Industry Showcase) will offer the opportunity for all professionals to expose their know-how and services and to exchange about the latest technologies.
Submissions are accepted for consideration. Our inaugural year (2010) is exhibition only - not a competition. At least one filmmaker representing the production is highly recommended to attend. Filmmakers are encouraged to contact international governmental and arts organizations for assistance to attend.
Entry form can be found here.