Call for Articles: 2023 Living Heritage Series on Storytelling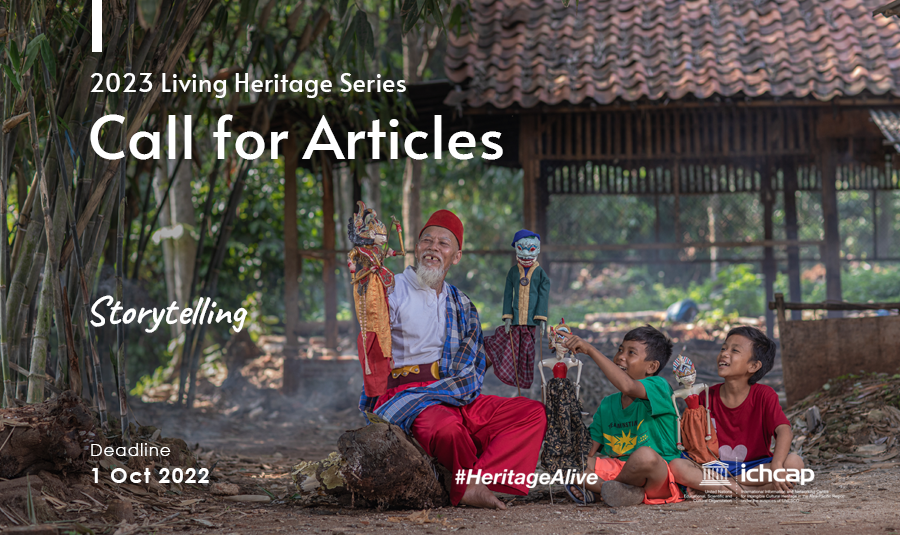 The online journal #HeritageAlive and ICHCAP are calling for articles on the theme of "storytelling" for the upcoming Living Heritage Series. The new book will be published by the end of 2023 to be presented at 18th session of the Intergovernmental Committee for the Safeguarding of the Intangible Cultural Heritage (ICH).
The main purpose of the articles is to reflect NGOs' and experts' experiences in the field while working on projects related to storytelling. Rather than solely presenting an ICH element, the articles should reflect the challenges, methodologies, and experiences in safeguarding and transmission and in the spirit of the 2003 Convention to emphasise the element's social and cultural function for a group or community. In other words, the submitted text must be about the achievements in safeguarding ICH through specific projects or activities.
#HeritageAlive aims to share NGOs experiences regarding safeguarding practices, both good and bad, within the area of ICH. The concept is to share knowledge from fieldwork in communities and with practitioners, between the UNESCO accredited NGOs and experts, in order to learn from each other.
As the main purpose of organisations is to share experiences from the field, the articles shall preferably be made by, or in cooperation with, the NGOs and practitioners concerned. All NGOs are encouraged to contribute.
The article should be written in English or French and be between 1,500 and 2,000 words.
Deadline: 1 October 2022
ICHCAP promotes the UNESCO Convention for the Safeguarding of the Intangible Cultural Heritage and contributes to its implementation in the Asia-Pacific region.