Butterworth Fringe Festival | open call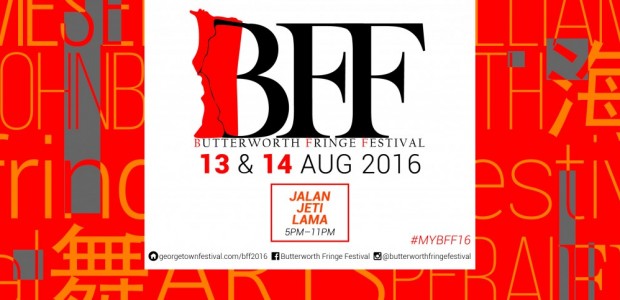 With its successful inauguration in 2015, Butterworth Fringe Festival (BFF) will return to Penang, Malaysia from 13 to 14 August 2016, offering another weekend packed with arts, culture and heritage. Open call for artistic proposals for the festival.
The Butterworth Fringe Festival (BFF) that highlights Butterworth and Seberang Perai will return this August with the aim of turning the festival into a larger event than the main George Town Festival (GTF).
GTF director Joe Sidek said it will be one of the few festivals in the world that is totally free for the public.
"A fringe festival can become a larger festival than the main festival and we can get inspiration from festivals like the Adelaide Fringe Festival and the Edinburgh Fringe Festival, both festivals have become bigger than the main festivals," he said at a press conference announcing BFF 2016 at Seberang Perai Municipal Council (MPSP).
Butterworth Fringe Festival is a true celebration of the power of artistic expression. We want audiences to experience the town of Butterworth like never before.
For the upcoming festival we are once again looking for programmes that are
FUN | QUIRKY | INSPIRING | INTRIGUING | AUTHENTIC| CELEBRATORY
If those are some of the words you'd use to describe your project, BFF would love to hear from you! Submit your proposal for BFF 2016!
Deadline for entries: 17 April 2016
Read more
about the Butterworth Fringe Festival
George Town Festival
runs 1-31 August 2016