11th ASEF Journalists' Seminar | Open Call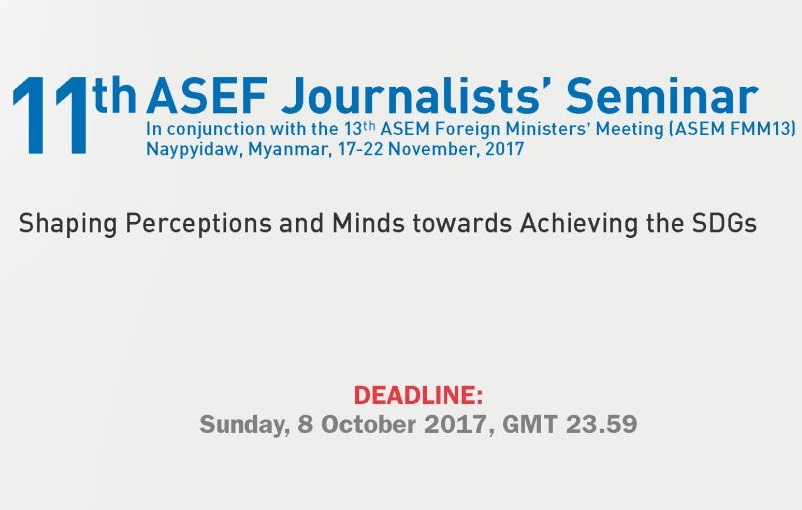 WHAT IS ASEFJS11?

The ASEF Journalists' Seminar (ASEF JS) has been fostering cooperation among media practitioners from Asia and Europe since 1998, establishing itself as an integral part of the broader Asia-Europe Meeting (ASEM) Process. Held on a biennial basis in conjunction with the ASEM Foreign Ministers' Meetings (ASEM FMMs), the Seminar provides a platform for informal dialogue on key themes related to media, as well as an opportunity for expanding media networks between Asia and Europe.

The core theme of the 11th ASEF Journalists' Seminar (ASEF JS11) will be the Sustainable Development Goals (SDGs) and the media's role in shaping perceptions towards them. The 25 selected participants from Asia and Europe will explore the topic of sustainability through the prism of Environment, Education, and Culture, discussing how each can be covered from a Constructive Journalism-based approach.

WHY JOIN ASEFJS11?

The ASEF JS11, under the theme of "Shaping Perceptions and Minds towards Achieving the SDGs", offers a unique space for exchange of ideas and best practices on challenges journalists encounter in their daily work.

ASEFJS11 is an opportunity to:


Become involved in the ASEM Process and contribute to shaping the future of sustainability reporting


Network with media practitioners from across Asia and Europe


Participate in panel discussions and workshops led by media experts and gather insights from inspirational speakers


Broaden your perspective on the media landscape across Asia and Europe





Participating journalists will also receive accreditation to the official Media Centre to cover the 13th ASEM Foreign Ministers' Meeting (ASEM FMM13) as well as the concluding Press Conference.

















To find out more about the event and application eligibility, check out the 11th ASEF Journalists' Seminar website and FAQ. Stay updated on the latest updates on the ASEF Facebook page. For further questions, email Mr. Vasil STEFANOV at: vasil.stefanov@ASEF.org

Have a look at the video highlights of the past 10thASEF Journalists' Colloquium, which took place in November 2015 in Luxembourg.