World's top design museum releases podcasts | Victoria & Albert Museum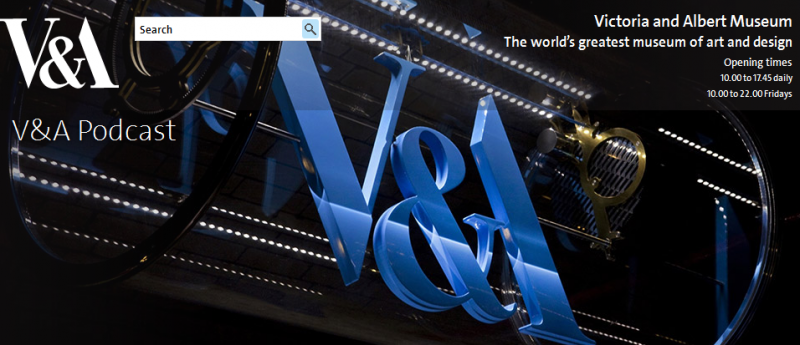 Behind the scenes of the world's leading art & design museum
The Victoria and Albert Museum in London, "the world's greatest museum of art and design", is publishing free online podcasts of interest to cultural managers and museum experts worldwide.
These V&A podcasts reveal the work that goes on behind the scenes of the world's leading art and design museum. Topics will range from the challenges of curating exhibitions about performance, to ways of preventing art theft. Hosted by the V&A's Head of Research, Glenn Adamson, each podcast offers an in-depth discussion with experts from both inside and outside the Museum.
A new podcast is added every two weeks. Current series includes:
V&A Podcast - Curating Pop Music
Victoria Broackes, from the V&A's Theatre and Performance department, and renowned music critic, Paul Morley discuss the possibilities and challenges of presenting rock and pop music in a museum setting. They examine how to bring alive displays of pop and rock material using multiple technologies as seen in the V&A's hit exhibition David Bowie is, and what the future of curating rock and pop music holds.
V&A Podcast - Branding the Museum
Damien Whitmore, Director of Public Affairs and Programming at the V&A and Wally Olins, one of the world's leading innovators in brand management demonstrate that brand is more than simply a logo. It is the personality and DNA of an organisation. They explore how the V&A uses its brand across all its activities, from visitor experience to exhibition design, from scholarly research to the offer in the café, and how the core values it represents are the uniting purpose behind everything that the Museum does.
Access the full list of 
V&A Podcasts
View all Asia-Europe Museum Network members from the United Kingdom.
[Source] culture360.org: Behind the Scenes at the Museum | podcasts from the Victoria and Albert Museum