from - to
18 Oct 2016 - 21 Oct 2016
Valletta | 7th World Summit on Arts & Culture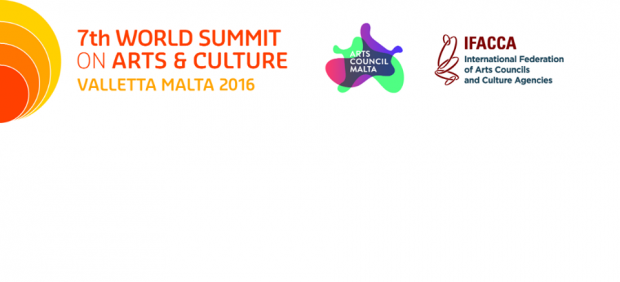 Join the international arts and cultural policy community at the
7th World Summit on Arts & Culture
in Valletta this October, for a unique chance to engage with your international peers, share ideas, and shape the future of our sector. Preferential rates are available for IFACCA Members and early birds.
Full programme details
List of speakers
REGISTER NOW
At the crossroads? Cultural Leadership in the 21st Century
Delegates and speakers will explore changing perceptions of cultural leadership and address questions around the challenges and opportunities presented by conditions in the 21st century, as we work to affirm the arts and culture as pillars of social development.
The Programme
Held over three days, the Summit will open at Palace Valletta, followed by a full programme featuring keynote speakers, panels, discussion sessions, a gala dinner, and cultural events. Speakers include:
Simon Brault, Canada Council for the Arts (Canada)
Arn Chorn-Pond, Cambodian Living Arts (Cambodia)
Jane Chu, National Endowment for the Arts (USA)
Yvonne Donders, University of Amsterdam (Netherlands)
Jepchumba, digital artist, curator and designer (South Africa)
Octavio Kulesz, Editorial Teseo (Argentina)
Kelli McCluskey, artist / pvi collective (Australia)
Oussama Rifahi, Arab Fund for Culture (Lebanon)
Anupama Sekhar, Asia-Europe Foundation (India)
Find more information and register at 
artsummit.org.