UK and China sign Film Co-Production Agreement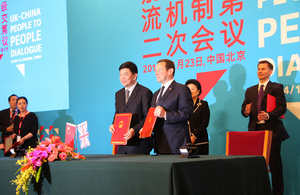 A
landmark film co-production treaty
between the UK and China has been signed by Culture Minister Ed Vaizey and Vice Minister Tong Gang of the State Administration of Radio, Film & Television (SARFT).
The treaty, which was negotiated for the UK by the
British Film Institute
(BFI) with support from the DCMS and UK Trade & Investment in Beijing, will allow qualifying co-productions to access national benefits including sources of finance and an easier passage to audiences. In the UK this includes the Film Tax Relief and the
BFI Film Fund
, which is the UK's largest public film fund. In addition, eligible co-productions will not be subject to China's quota on foreign films, which only permits a limited number of non-domestic titles to be shown in Chinese cinemas each year.
China's film entertainment sector (including cinema, Video on Demand and DVD) was estimated to be worth US$3.26bn in 2012. Films made as China/UK co-productions will be able to access the second highest box office audience in the world, worth US$2.7 billion and forecast to grow to US$5.5 billion by 2017.
Mr Vaizey was in China in April as part of a UK government delegation to push forward new areas of cultural collaboration and champion the tremendous success of the UK's creative industries.
Learn more about film co-production with China:
Co-producing with China: what's in it for Australia?
This article from
Asian Creative Landing Pad 
looks at the scope and benefits for developing film co-production between Australia and China. It reviews co-productions which have taken place between China and other countries such as Japan, the Philippines, Mongolia, Italy and Singapore.