from - to
28 Oct 2015 - 01 Nov 2015
Ubud Writers & Readers Festival 2015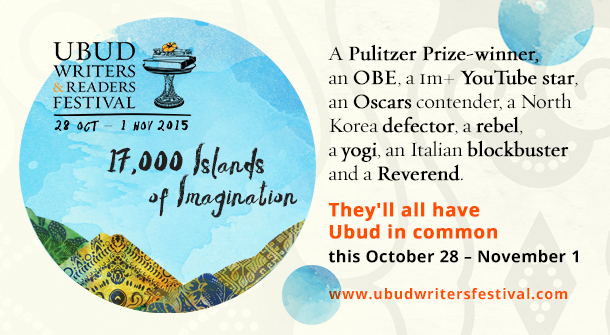 A full international line up of writers, thinkers, artists and readers descend on the Ubud Writers & Readers Festival from
October 28
–
November 1.
The theme this year is
17,000 Islands of Imagination
 and the programme will touch on the
1965 massacre
, regions such as
Aceh
 and
Papua
,
storytelling through cloth
, and much
more
. As always, the heart and soul of the Festival is the
Main Program
, where the big ideas and global issues are diced out in fiery panel discussions, talks and intimate conversations. The full star line-up programme brings together more than 165 authors from over 25 different countries 
–
including
Christina Lamb
,
Michael Chabon
,
Mpho Tutu
,
Raditya Dika
,
Ayu Utami
,
Teju Cole
,
Anuradha Roy
and more. It includes a Pulitzer Prize-winner, an OBE, a 1m+ YouTube star, an Oscars contender, a North Korea defector, a rebel, a yogi, an Italian blockbuster and a Reverend. Festival also includes a film programme, workshops, literary lunches, walking tours and much more. The
Asia Literary Review
has a comment on
Censorship at the Ubud Festival 2015
with links to texts by authors whose events have been cancelled.