Sovereign Asian Art Prize awards two artists from Pakistan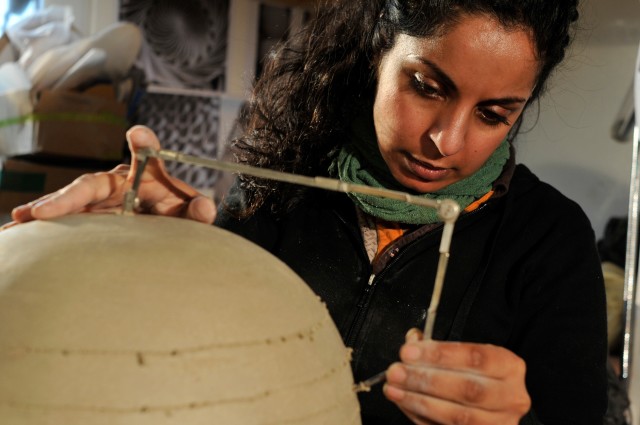 The Sovereign Art Foundation announces that Halima Cassell's Acapella has won the 14th Sovereign Asian Art Prize and Muhammad Onaiz Taji's 25th December 2016 has won The Public Vote Prize. The winners were selected from a strong shortlist of 30 artworks by a panel of specialists.
A renowned nonprofit in support of projects helping disadvantaged children, the Sovereign Art Foundation has announced its 2018 winners for the 14th annual Sovereign Asian Art Prize. Halima Cassell's Acapella has earned the artist the title of the 2018 Sovereign Asian Art Prize Winner, a trophy and a money prize of USD 30,000. Muhammad Onaiz Taji's 25th December 2016 was recognised as the public's favourite piece by popular vote and the artist received an award of USD 1,000.
Pakistan-born Halima Cassell (b. 1975) graduated from the University of Central Lancashire with an MA in Design (2002) and a BA in 3D Design (1994).
Also from Pakistan, Muhammad Onaiz Taji (b. 1991) graduated from the National College of Arts, Lahore with a BFA in Indo-Persian Miniature Painting (2016).
The winners were selected from a strong shortlist of 30 artworks by a panel of specialists including Alexandra A. Seno, Head of Development at Asia Art Archive in Hong Kong; David Elliott, writer, curator and museum director; Fumio Nanjo, Director of the Mori Art Museum, Tokyo and Art Education International Director of Hong Kong Arts School; Jan Dalley, Arts Editor of the Financial Times; and Rashid Rana, celebrated contemporary artist. The results were selected from a distinguished group of 328 mid-career artists with a total of 530 entries nominated by over 70 independent art professionals across Asia-Pacific.
Read the full report on Art Radar, including an interview with the main prize winner Halima Cassell to know more about the artist and her work.
Held annually, the Sovereign Asian Art Prize invites mid-career contemporary artists - nominated by a carefully selected board of independent art experts from the region - to enter up to three artworks online. Entries are then shortlisted by a small judging panel consisting of world-class art specialists, who select the best 30 artworks from a range of digital images. These 30 artworks are exhibited in a prominent public space in Hong Kong, where the pieces are judged a second time, in person.