Signature Art Prize 2011 | nominated artists announced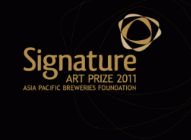 Announcing the nominees for the prestigious triennial
Signature Art Prize 2011
, open to visual artists from the Asia-Pacific region.
Artists from 24 countries
have been selected with finalists and awards to be decided.
From Japan to Indonesia, India to Papua New Guinea,
contemporary visual art in Asia Pacific
is coming into its own. It is vibrant, diverse and causing quite a stir. The Asia Pacific Breweries Foundation Signature Art Prize is a hallmark of distinction that identifies, recognises and showcases to the rest of the world, artists from the region who have produced significant, original work in the last three years.
Established in 2008 by the Asia Pacific Breweries (APB) Foundation and the Singapore Art Museum (SAM), the APB Foundation Signature Art Prize is
a prominent platform
for both
emerging talents
as well as
established names
and reflects developments in the region's contemporary art landscape.
The triennial Prize is open to all visual artworks, regardless of medium, subject matter and size.
Entry is by nominations
only with independent, established art experts from the region combing through the visual art landscape to pick out recently produced works that are groundbreaking in their artistic insight and concept, technique and expression.
This year, a total of 130 artworks by both established and emerging artists from 24 countries and territories in Asia Pacific made the cut. Out of these nominations,
15 finalists will be selected
and exhibited at SAM for the final judging. One Grand Prize winner will walk away with S$45,000 while three Juror's Prizes (S$10,000 each) will be awarded to noteworthy works. A People's Choice Award (S$10,000) will be given to the work with the most online and on-site public votes.
Public voting for the People's Choice Award opens OCTOBER Ist.
The Finalists Exhibition opens at Singapore Art Museum: 11 November 2011 to 4 March 2012