Report: Getting Cultural Heritage to Work for Europe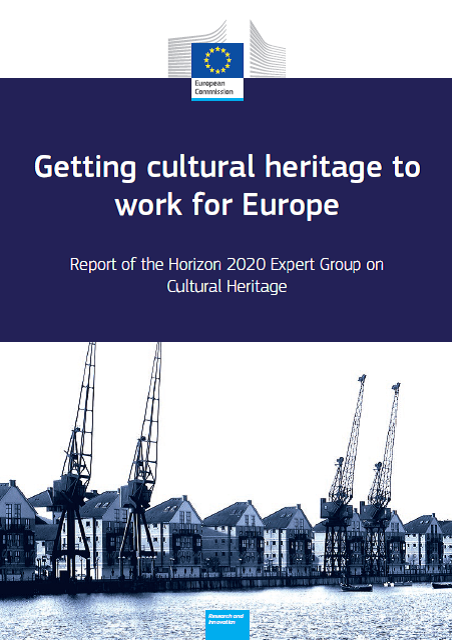 The European Commission's Directorate-General for Research and Innovation has recently published a report entitled
Getting Cultural Heritage to Work for Europe
, which is freely available online. The report was
prepared by an Expert Group on Cultural Heritage established under the EU's Horizon 2020 Work Programme
2014 for the Societal Challenge 'Climate action, environment, resource efficiency and raw materials. The Expert Group was chaired by Dr. Philippe Busquin, former Commissioner for Research, Science and Technology and former Member of the European Parliament. The group aimed to contribute to further investigating and providing input for fully developing the potential that cultural heritage holds for Europe.
The report concludes that cultural heritage is a significant force for 21st century Europe
: "Not only is it at the heart of what it means to be European, it is being discovered by both governments and citizens as a means of improving economic performance, people's lives and living environments." In this respect,
Getting Cultural Heritage to Work for Europe
also argues that "Cultural heritage is increasingly regarded as a positive contributor to European GDP. Indeed
cultural heritage is now widely appreciated as an essential part of Europe's underlying socioeconomic, cultural and natural capital
. This is a significant change in focus as cultural activities have traditionally been regarded as costs to society." However, the report recognises that
this positive experience of cultural heritage is not yet universal
: in many places, both urban and rural, rich cultural assets have not been recognised for the potential they hold to regenerate and renew.
Getting Cultural Heritage to Work for Europe
argues that "
the European Union should vigorously promote the innovative use of cultural heritage for economic growth and jobs, social cohesion and environmental sustainability
." Presenting several examples from different European countries, the report suggests that lessons should be learnt from places where cultural heritage has been a positive economic, social and environmental driver.
Innovative financing, new forms of governance, unified landscape management, public private partnerships, crowd-sourced funding, philanthropy
and many other innovative and creative approaches have been taken to releasing the locked-up potential of Europe's heritage. Those lessons should be applied to unlock the possibilities for growth and development that cultural heritage holds across Europe. The authors believe that the evidence demonstrates that
relatively modest investment in cultural heritage can pay substantial dividends
. These can be taken economically but also in terms of improving environmental sustainability and social cohesion. The report
Getting Cultural Heritage to Work for Europe
can be downloaded at
http://bookshop.europa.eu/en/getting-cultural-heritage-to-work-for-europe-pbKI0115128/