Reflections on smart cities by Indian architect Rahul Mehrotra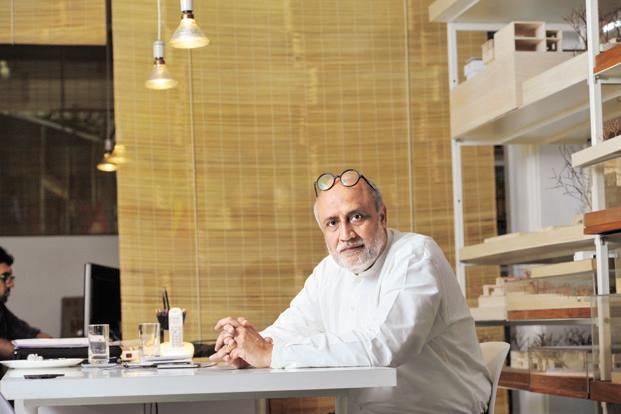 Mumbai's National Gallery of Modern Art will host a series of talks, events and exhibitions on contemporary architecture in India and South Asia early next year, organized by Urban Design Research Institute (UDRI), an independent think tank based in the city. The exhibition has been co-curated by architect Rahul Mehrotra, cultural theorist Ranjit Hoskote and architecture critic Kaiwan Mehta, with the objective of bringing the discussion on architecture back to the centre stage.
Mehrotra juggles many roles—he is the founder of Mumbai-based RMA Architects, a trustee of UDRI, and over the past decade, professor of urban design and planning at Harvard University's Graduate School of Design. He is also on the steering committee of the South Asia Institute at Harvard University. His latest collaboration with a team of researchers and students from the institute led to the book Kumbh Mela: Mapping The Ephemeral Mega City, which was released in New Delhi earlier this week. The book looks at the way the Kumbh Mela operates quite successfully as a temporary city.
Mehrotra's firm, which has worked closely with the Chhatrapati Shivaji Maharaj Vastu Sangrahalaya (formerly the Prince of Wales museum), will be creating a children's museum within the precincts of the historic monument that dates back to the early 1900s. This underlines the architect's concern with public infrastructure and institutional patronage—themes that will also inform the exhibition that will take place from 6 January to 27 March 2016.
Mehrotra, who splits his time between Mumbai and Boston, speaks about the crisis facing contemporary architecture in India today, and why debate is vital if architecture is to be a language of our democracy. Edited excerpts:
You are spearheading an exhibition that will be held at the National Gallery of Modern Art in Mumbai next year, which will provide an overview of public architecture in post-Independence India and initiate discussions on contemporary architecture in our country. Why do you think it's important to hold this exhibition now?
I am co-curating this exhibition, The State of Architecture: Practices and Processes in India, with art critic Ranjit Hoskote and architectural critic Kaiwan Mehta. We felt that many curatorial hands would represent the gamut and pluralism of architecture in India better than one curator. We also felt that while the debates on urbanism have got really mature, because the cities had some real problems and people have galvanized around those issues, there is very little discussion on contemporary Indian architecture. We felt that for schools, students and the profession more broadly and even the general public, we needed to bring this discourse back to the centre stage. We hope to tease out the issues surrounding our lived environment today. Are we facing a crisis of patronage, capacity, education or institutional structures? The exhibition will have two components. The actual physical exhibition—with photographs, projections and infographics—will offer an overview of practices since independence and projects by younger practices, and will emphasize architecture in the public realm, like institutional buildings. We will also have a bunch of events and conferences. We will do a two-day symposium with architects from neighbouring countries including Pakistan, Nepal, Bangladesh, Sri Lanka, Bhutan and Afghanistan. The big questions we wish to ask are: What is the agency of design? What is the role of the architect in society? Why don't architects have more of a public voice?
Charles Correa, who passed away in June, was an architect with a public voice, and a vision for Indian architecture. He famously said that in India, climate is the progenitor of architecture. Is there anyone who can fill the gap he has left behind?
To put it briefly, the times are different. Charles Correa, B.V. Doshi, Raj Rewal—they are the first generation of post-independence architects. In their time, the profession was very young and they took up an amazing leadership role, which is not to say that we don't need leadership roles now. But I think it's a much more complex situation now. It's more varied and plural. India, at independence, had a focused, single-minded agenda of nation-building and (of creating a) national identity. At that point, architecture was used as a very powerful instrument to weld ourselves as a nation. That is not the agenda today—the built environment is a localized concern. In this condition of contemporary India, the need is for plural voices and devolvement of forms of leadership to local levels.
There can't be one solution for India like the Corbusian model was for Nehru. The trajectory of architects in the 1960s and 1970s was clearer than it is now, because they had state patronage. Now the only architecture that the state talks about is GDP (gross domestic product)—it's a statistical architecture by which the state defines its identity. All state projects now are of infrastructure, telecommunications, highways, freeways, rapid trains, etc. Even smart cities are never talked about in terms of their architecture, but only in terms of their infrastructure. So, of course, there is a crisis for young architects.
For me, personally, I do believe that architecture is always of a place. My aspiration is to take global programmes like corporate offices and information technology centres, and root them in the place through material, climate and the way that people in that city use a building. We are now trying to reconcile fundamental values that make good architecture with a new form of patronage and that opens up its own sets of problems.
The big plan, and you alluded to it, is the smart city—100 over the next five years. The central government has allocated Rs. 98,000 crore for this. What do you make of the idea of smart cities?
I have no idea what a smart city means because this is a universal term that has no real value except for the people who are sloshing capital around. The problem with smart cities is that they are founded on capital and investment, but don't consider the human being as part of this equation. I fear these will end up being gated communities for an elite, skilled, upper middle-class population. People say a smart city is one that uses technology to create connectivity and efficiencies. So I can stand at a bus stop and know that the bus is going to arrive in 10 minutes, and that'll save me 10 minutes, but if it's an inhuman city then I'm not interested in saving those 10 minutes.
Read full article