Philippines to participate in Venice Biennale 2015 after 50 year absence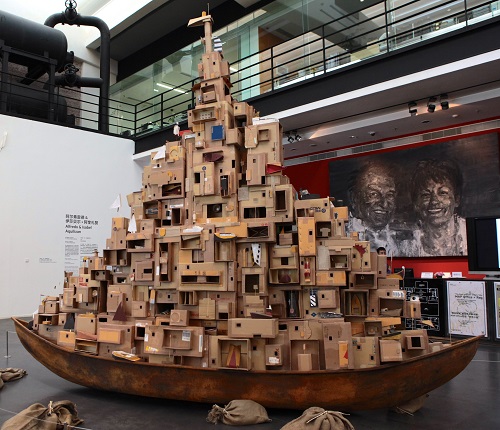 The Philippines will participate in the Venice Biennale 2015 after a five decade absence. The Filipino Department of Foreign Affairs has announced that the Philippines will have a pavilion at the 56th Venice Biennale in 2015, after a 50-year hiatus.
The Department of Foreign Affairs communique states:
After 50 years since the country's first and last official participation in The 32nd International Art Exhibition of the Venice Biennale 1964, the exhibition of the Philippine Pavilion at the Venice Biennale 2015 aims to strengthen the role of the Philippines in the international community as a nation of and destination for contemporary art.
Curated by international contemporary art historian Pearlie Rose S. Baluyut, Ph. D., The Philippines Pavilion exhibition entitled "Heterot(r)opic" revolves around the concept of the Philippines as a tropical heterotopia, a real space of crises where utopia – the myth of civilization and the project of progress – is simultaneously represented, negotiated, and/or subverted.
The return of the Philippines to the Venice Biennale in 2015 signals a bold and unwavering commitment to provide the opportunity and recognition to Filipino artists residing in and outside the Philippines and representing a wide range of mediums such as painting, sculpture, photography, installation, video and digital platforms, and performance.
Artists of Philippine nationality are invited to apply through a global, open-call competition
. Official competition guidelines, including eligibility requirements, online application forms, and deadlines, will be made available
on the website.
The
56th International Art Exhibition of the Venice Biennale
will take place from 9 May to 22 November 2015 and will be curated by African-born curator, art critic, editor and writer Okwui Enwezor, also Director of the Haus der Kunst in Munich since 2011.
Art Radar Asia comments that the announcement has sparked worldwide interest. 
The Philippines have not had a national pavilion at the Venice Biennale since their first and last participation at the Biennale's 32nd edition in 1964. This 50-years hiatus and the sudden news of the country's participation next year have sparked speculations and questions on why the Philippines are now returning and whether the country's art scene is ready for such a big challenge.
Read  more
about the
Art Fair Philippines
, the 2nd edition of the contemporary art fair held in Makati in February 2014.
Read more
about the 2013 Manila Vice Philippines contemporary art exhibition in France.
Image:
Alfredo & Isabel Aquilizan, 'Passage: Project Another Country', 2009, mixed media installation. Image courtesy the artists and Multitude Art Prize.