from - to
20 Oct 2010 - 23 Jan 2011
La Route de la Soie | contemporary Asian art exhibition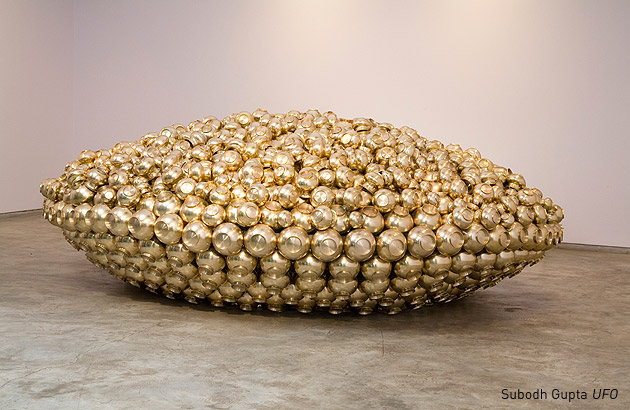 [caption id="attachment_7650" align="alignright" width="403" caption="Subodh Gupta, UFO"]
[/caption]
La Route de la Soie
(The Silk Road) is a major exhibition of contemporary art from the collection of the Saatchi Gallery, presented in Lille, France at Le Tri Postal, featuring artists from China, India and Pakistan.
For the first time in France
,
lille3000
presents more than 60 works from the contemporary art collection of the London based Saatchi Gallery, assembled for the exhibition entitled "La Route de la Soie" [The Silk Road]. A reference to the
ancient trade routes between Asia and Europe
which linked in particular China and the Middle East via India from the 2nd century before Christ… Three regions whose contemporary works of art arouse every day increasing interest in the international art world. The exhibition offers an extensive view of this recent artistic work through paintings, sculptures, photographs and installations of Chinese, Indian, Iranian, Palestinian, Lebanese, Egyptian, Afghan and Pakistani artists.