Korean shorts pocket prizes in Berlin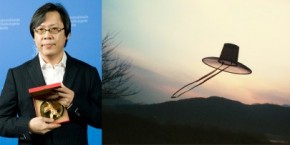 Park Chan- Kyong receiving his prize (photo credit: Berlinale)
The Korean short film Paranmanjang (Night Fishing) directed by Park Chan Wook, of the Old Boy's fame, and his brother Park Chan Kyong received a Golden Bear ( the top prize) of the short films category during the closing ceremony of the Berlinale on February 19th.
That film previously received major media attention and several articles were consequently published in January when it was publicized that the film was shot solely using a popular model of smartphone (produced by a California based company which use a fruit as its logo) as its main camera. Paranmanjang was fully financed by a mobile phone service operator which is also the exclusive distributor of the said smartphone in Korea.
The  film enjoyed a theatrical release , somewhat an exception for a short film in South Korea.
The Jury prize of the short films competition also went to a Korean short Pu-Seo-Jin Bam (Broken Night) by Yang Hyo-joo.
In addition, the sole Asian representative in the feature film competition was also coming from Korea, Saranghanda, Saranghaji Anneunda (Come Rain, Come Shine) by Lee Yoon Ki.