from - to
13 Nov 2013 - 16 Nov 2013
Indonesia Performing Arts Market 2013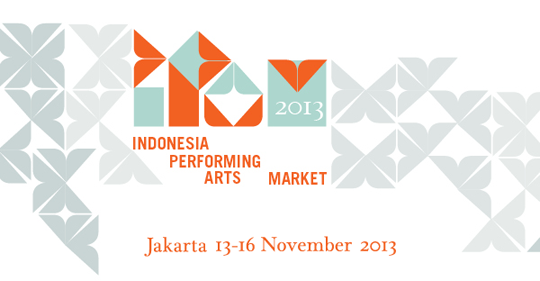 Indonesia Performing Arts Market (IPAM) 2013
takes place in Jakarta 13-16 November. IPAM 2013 will see a refreshing change of direction reflecting a realignment of Indonesia's performing arts export strategy promoting our best contemporary work onto the stages of the world's leading festivals and arts venues.
The count down is on with IPAM commencing at 6.30pm on Wednesday the 13th November with a procession through the streets of Jakarta's Kemang district that will take you into the vortex of a community religious festival from the island of Madura with it's unique blend of Javanese and Arabic cultural influences. The destination is a unique patch of lush green traditional rural Java wedged between the cafes, bookshops, designer outlets and musical night spots of Jakarta's chicest neighborhood.
The following three days will take you on a journey, encountering the best of contemporary and traditional Indonesian dance, music, theatre and opera. You will visit the extraordinary Komunitas Salihara contemporary arts space and participate in animated discussion and debate. You will meet Indonesian artists, you will see Indonesian sights, smell Indonesian smells and taste Indonesian flavors including dinner at City Hall with Jakarta's celebrity Governor Jokowi (Joko Widodo). After 40 performances you'll relax on Saturday night at the wrap party at RedWhite Jazz Lounge, listening to Indonesia's top contemporary Jazz and singer songwriter talent. Indonesian tourism and Creative Economy Minister Mari Elka Pangestu is determined to show you some sides of Indonesia you may not have encountered or even imagined.
A few delegate spaces are still available so it's not too late to register. If you're convinced register now http://www.ipam-indonesia.org/registration.php or if you're interested contact us directly.
Under the consultation of Andrew Ross, former Artistic Director/CEO of Brisbane Powerhouse, IPAM 2013 will promote the best contemporary dance, theatre, contemporary opera and music to a contingent of the worlds leading arts festival directors and arts centre programmers including major festivals and art centres in the Australia, UK, Ireland, Germany, Belgium, Poland, Singapore, Malaysia, Japan, Korea, Canada and the USA.
The IPAM 2013 programme includes curated showcases and full length performances of the best contemporary and traditional Indonesian music, dance and theatre along with special events including music from across the archipelago, a focus on East Java, and an introduction to a new generation of contemporary choreographers.