ICOM Publication: New Ideas for Presenting Museum Objects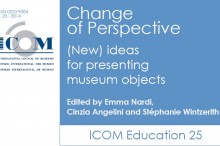 The latest issue of
Museum Education
, the official journal of the International Council of Museums' (ICOM) Committee for Education and Cultural Action (CECA), is entitled
Change of Perspective: (New) ideas for presenting museum objects.
Edited by Emma Nardi, Cinzia Angelini and Stéphanie Wintzerith, this collection of essays results from the European Union-sponsored
EuroVision - Museums Exhibiting Europe (EMEE) project
. EMEE explores an innovative interdisciplinary approach for national and regional museums to re-interpret their objects in a broader context of European and transnational history. In this context, a call for papers was circulated to CECA members.
The resulting publication
collects over 15 articles from around the world, in English, French and Spanish, addressing issues such as national identity, communication with specific audiences, mediation and exhibition. The
'change of perspective'
notion which lies at the basis of the publication refers simultaneously to the European (or trans-regional) reinterpretation of objects; the relationship between museum experts and visitors; and the processes of international cooperation. The publication is available at
https://drive.google.com/file/d/0B8yHu7SudP4kOF9uRzBqV0hNcGc/view?usp=sharing