from - to
01 Aug 2012 - 04 Aug 2012
HAO Summit 2012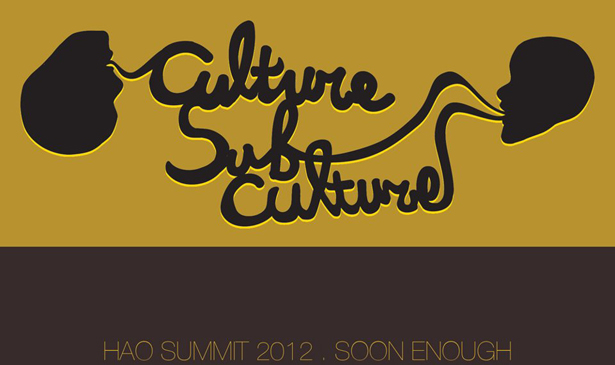 The Substation proudly presents the third edition of the HAO Summit – a professional development, mentorship and networking 'retreat' programme for young arts and cultural workers in Southeast Asia. The brainchild of The Substation's former Associate Artist Khairuddin Hori, the first edition of HAO was presented in 2008 and the second edition in 2010.
The HAO Summit plugs a gap in the Southeast Asian art scene: recognizing that while the art scene has undergone a boom in recent years, there remain few professional development opportunities for arts and cultural workers to help them cope with an expanding, changing, and globalizing arts sector. Unlike a regular conference, each HAO Summit revolves around a particular concept, emphasizing open dialogue, experiential learning, peer-to-peer learning and being inspired to think outside the box. The theme of the HAO Summit 2012 is Culture Sub Culture, a framework which will explore how geography and landscape have shaped people's cultural expressions and how these have evolved over time - from forgotten moments in history, hidden sites such as the Radin Mas neighbourhood rich in historical and cultural resonances, to today's urban subcultures. Key facilitators for the HAO Summit 2012 are: Khairuddin Hori (artist & curator), Audrey Wong (Programme Leader, MA Arts & Cultural Management, LASALLE College of the Arts & former Nominated Member of Parliament for the Arts), Marco Kusumawijaya, (Former chairman of the Jakarta Arts Council and Director, Rujak Center for Urban Studies, Indonesia) and Shahrul Jamili Miskon (artist from Malaysia and a HAO alumnus from 2008 and 2010). HAO Summit is also supported by the National Arts Council and the Lee Foundation.
HAOcamp @ The Substation
Held in conjunction with the summit is HAOcamp, a freestyle conference platform that allows HAO Fellows and the public to present, dialogue or simply listen to creative concepts and ideas related to notions of culture and subculture. HAOcamp is also a platform for the public to pitch project ideas or engage in conversation with participating HAO Fellows. The event is held on the 4th of August at The Substation.
Source: The Substation