from - to
31 Mar 2016 - 01 Apr 2016
Forum d'Avignon @ Bordeaux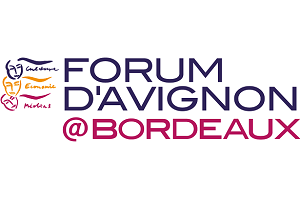 'Enterprising culture'
is the theme of the 8th International Meeting of the Forum d'Avignon in Bordeaux, France, taking place 31 March - 1 April 2016, with a distinguished international panel of speakers, including politicians, artists, cultural entrepreneurs, cartoonists, architects and more ... Since their creation in 2007, the International meetings of the Forum d'Avignon have aimed at creating a dialogue, in an international perspective, between artists, CEOs, and politicians on creation-related topics. Built on the works of groups of experts and international studies, their goal is to make innovative proposals emerge. In 2016, for the first time, the 8
th
International meeting of the Forum will take place in Bordeaux, in the prestigious Grand Théâtre, on March 31
st
and April 1
st
.
Great debates and proposals for the future.
This 8
th
edition puts emphasis on the different ways of "Enterprising culture". Culture is both what differentiates us and what brings us together. It must find a strategic position within public policies. These sectors which contribute in growth and employment rely on the key role of creators and cultural entrepreneurs, especially in the digital era. Finally, culture is, with tourism and entertainment industries, a driving force for the attractiveness of countries abroad. This is why this year the Forum d'Avignon plans to advance reflection and to come up with proposals on four fields: encouraging entrepreneurial models that facilitate the most the mobilization of creative talents, diversifying the terms of the funding for creation, ensuring the coherence of the European tax system on cultural matters, and finally, accompanying the promotion of an 'ethical use' of data. The
1st Cultural Start-up Award
organized by the Forum d'Avignon will be awarded on March 31 at the Grand Théâtre of Bordeaux.
The debates on Thursday March 31st are open to the public
«
By locating culture within its economic and social context, the International meetings of the Forum d'Avignon are creating a passionate dialogue between creators, startupers, and decision-makers,
Hervé Digne, President of the Forum d'Avignon, specifies.
In an era which lacks bearings, the theme « Enterprising culture » reaffirms the singularity of culture and its role in the construction of identities in which everyone must be mobilized.
» «
Helped by the experience of the Forum d'Avignon, we decided to highlight how determining an approach that puts culture at the heart of our local and national policies is. Hosting the International meetings in Bordeaux is a strong symbol to make stakeholders of the cultural, economic, and digital sectors work together. 
» recalls Alain Juppé, Mayor of Bordeaux and former Prime Minister.
The Grand Tour :  January – July 2016
The Forum d'Avignon @Bordeaux has been selected by the French Ministry of Foreign Affairs and International Development to be one of the 40 stages of the Grand Tour, which showcases major cultural events of international scope.
Further information on the Forum d'Avignon @Bordeaux