07 Oct 2014 - 31 Dec 2014
Exhibition: "Caregivers to Culture Keepers: Stories from Women in a Changing Laos"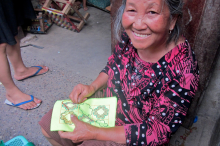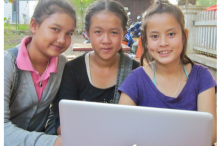 The
Traditional Arts and Ethnology Centre
in Luang Prabang, Lao PDR, an ASEMUS member, and international media arts programme
PhotoForward
launched in 2012 a community project entitled
Stitching Our Stories (SOS)
. The SOS project
engages women and girls from Lao PDR's diverse ethnic communities
to use photography, digital video, and community research to
explore their unique cultural heritage, the vital roles that women play, and the often-seismic impact that modernisation is having on traditional beliefs and practices
. SOS trains young women and girls in the art of storytelling and gives them a range of tools to tell their stories from their own perspectives. Over two years,
young women from the Hmong and Tai Lue communities in Luang Prabang have documented their communities
and built a collection of photographs, video clips, and interviews about women in Lao PDR today. From this amazing collection, the exhibition
"Caregivers to Culture Keepers: Stories from Women in a Changing Laos"
, which opened on 7 October at the Traditional Arts and Ethnology Centre, explores women's lives from the perspective of young ethnic minority women. The exhibition  features photographs, seven short documentary videos, and objects including batik-making tools, divination horns, and traditional baby carriers. The SOS project
provides the tools and support for these young women to investigate and reflect on their culture
. Serving as community researchers for this exhibition, these women actively foster the
revitalisation of ethnic traditions and identity
. The current community of Stitching Our Stories media artists consists of a
diverse group of 28 women and girls
from Hmong, Kmhmu, Phounoy, Tai Dam, Tai Lao, and Tai Lue ethnic groups.
They range in age from 9 to 37
and are students, handicraft makers, mothers daughters, business owners, and market sellers.
Additional information
:
Photo credits:
TAEC / PhotoForward