from - to
23 Oct 2010 - 30 Oct 2010
Doi Saket International Film Festival (DSIFf)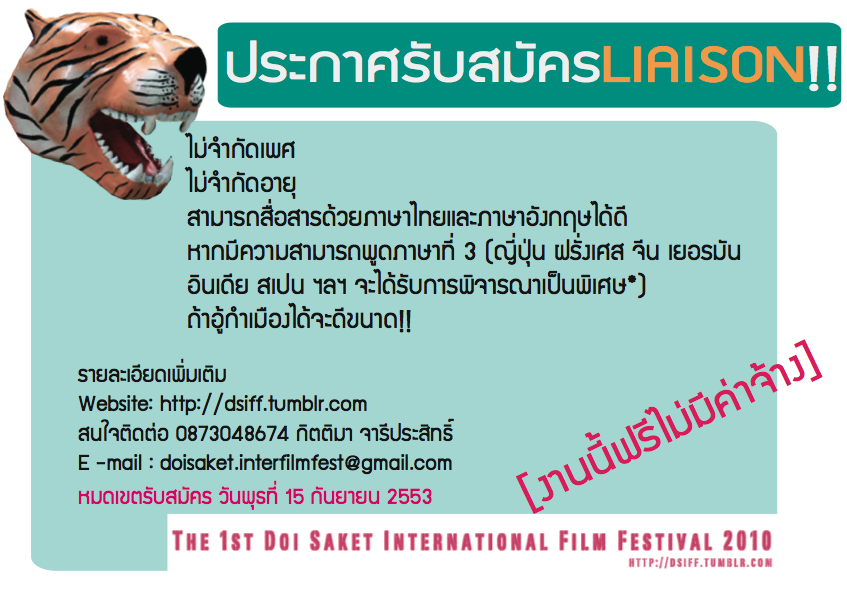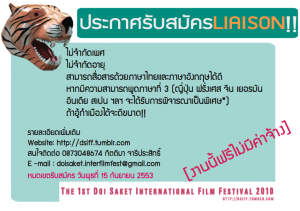 DSIFf is a new space for all kind of motion pictures; fictional films, documentary films, experimental Films, animation films, motion graphics, video installations etc. to screen in public area without any financial obstacle to be accessed by all audiences; local community, filmmakers, artists etc.  in order to encourage the filmmakers - artists to find their new freedom territories to distribute their works without failing on misjudgment in evaluation of authentic beauty of life.
The event will be held during Saturday 23 - 30 October, 2010 in Chiang Mai, Kingdom of Thailand. All screening is FREE of charge to all public, set up in a different venues in Doi Saket Area & Nimmanhaemin Area in Chiang Mai.
The Opening Ceremony will be held at Doi Saket Temple ( Wat Doi Saket ), as it's the center of Thai Community on Saturday 23rd October, 2010 which is one of the important day related to the Cerebration of Thai Emancipation.
E-mail:  doisaket.interfilmfest[at]gmail.com
Phone:    + 66 84 4383405