Cambodian cinema heritage guardian Rithy Panh wins 'Asian Filmmaker of the Year Award'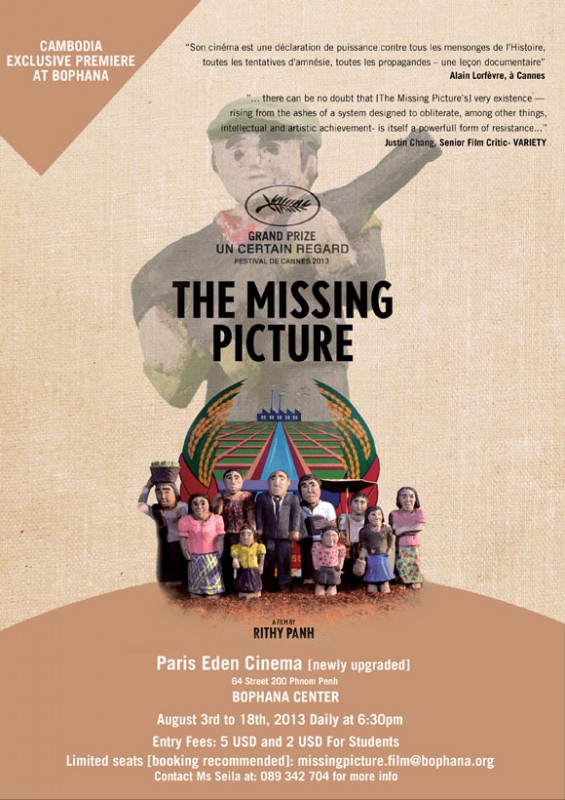 The 18
th
Busan International Film Festival has selected Cambodian film director
Rithy Panh
as the 2013 'Asian Filmmaker of the Year.' The Award is given annually to an Asian filmmaker who has significantly contributed to the development of the Asian film industry and the Asian culture.
Director Rithy Panh, born in Cambodia, made several films based on his childhood's appalling experience under the notorious Khmer Rouge regime. His masterpieces include
Bophana: A Cambodian Tragedy
(1996),
S21, The Khmer Rouge Killing Machine
(2003), as well as
Duch, Master of the Forges of Hell
(2011) and life under the Khmer Rouge regime and its vestiges is the main theme of his works. He gained international acclaim by winning Un Certain Regard Prize at the 2013 Cannes International Film Festival with
The Missing Picture
(2013), in which he reproduced the history of Cambodia with elaborate dioramas.
He has shown great talent in writing and contribution towards the preservation of Cambodian audio-visual materials including films. In 2005, he co-founded the '
Bophana: Audiovisual Resource Center
' together with director Ieu Pannakar, with the mandate to collect endangered audio-visual materials. The institution, a mecca of Cambodian film industry, currently educates young filmmakers as well as introduces Cambodian films to the public. Last June in Phnom Penh, he led the establishment of '
MEMORY! International Heritage Film Festival
,' a film festival with the theme of film heritage preservation.
The 18
th
Busan International Film Festival has acknowledged the dedication of Rithy Panh with the 2013 Asian Filmmaker of the Year Award to celebrate his well-made works and remarkable accomplishments in education and cultural records.
Biography of Rithy PANH
Director Rithy Panh, born in 1964 in Phnom Penh Cambodia, has led in the preservation of Cambodian film. Having lost his family in a refugee camp during the Khmer Rouge regime, he settled in Paris and studied film. Since his debut in 1989 with
Site 2
, he made numerous documentaries that deal with the tragic history of Cambodia. Documentaries he has directed include
Bophana: A Cambodian Tragedy
(1996),
Cinéma, de notre temps– Souleymane Cissé
(1990) and
La Famille Tan
(1995). He is currently the co-founder and honorary president of the Bophana: Audiovisual Resource Center that continues his efforts to preserve the audio-visual materials of Cambodia.
The
18th Busan International Film Festival
will be held in Busan, Korea from 3-12 October 2013