Cambodia - Emerging Film Shooting Location 2017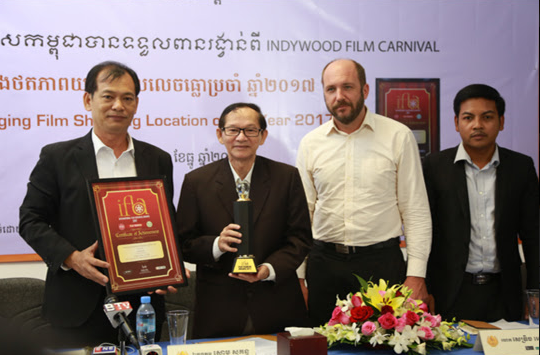 Cambodia has recently been declared a winner of the 2017 International Film Business Awards (IFBA) in the award segment related to "Film Commissions and Tourism Boards." The Selecting Committee has chosen Cambodia as the winner in the Category: "Emerging Shooting Location of the Year 2017" at the 3rd Indywood Film Carnival which was held from 1st to 04th December 2017 in Romoji Film City, Hyderabad, India.
Two representatives from Cambodia Film Commission, Mr. Sovichea CHEAP, Director and Mr. Cedric ELOY, Technical Assistant attended the Award Ceremony at Ramoji Film City, Hyderabad, India on December 02, 2017 to receive award trophy and certificate of achievement.
This award is indeed a momentous milestone for Cambodia in term of film industry. With this opportunity, Cambodia has been recognized by film professionals in India and other countries from all around the world.
Indywood Film Carnival and Internatioanl Film Business Awards (IFBA) took place from December 1-4, 2017 at Ramoji Film City. Supported by the government of Telangana, Indywood Film Carnival is one of the most celebrated film festivals in India.
Cambodia Film Commission is the only institution authorized and supported by the Ministry of Culture and Film Arts. CFC aims at promoting Cambodia as a film destination country to foreign production companies and strengthening the local film industry.
CFC is the gate for foreign filmmakers to prepare and shoot their film in Cambodia. By acting as consultant and intermediary and by providing professional assistance, CFC helps to make things easier for crews that choose Cambodia as the film shooting location. CFC has also set up a continuous professional training program to teach filmmaking skills and support the new wave of Cambodia filmmakers who are now able to compete on the international level.
Source from: Cambodia Film Commission / http://www.cambodia-cfc.org