from - to
31 Jan 2022 - 13 May 2022
Brussels | Korean Cultural Center photo exhibition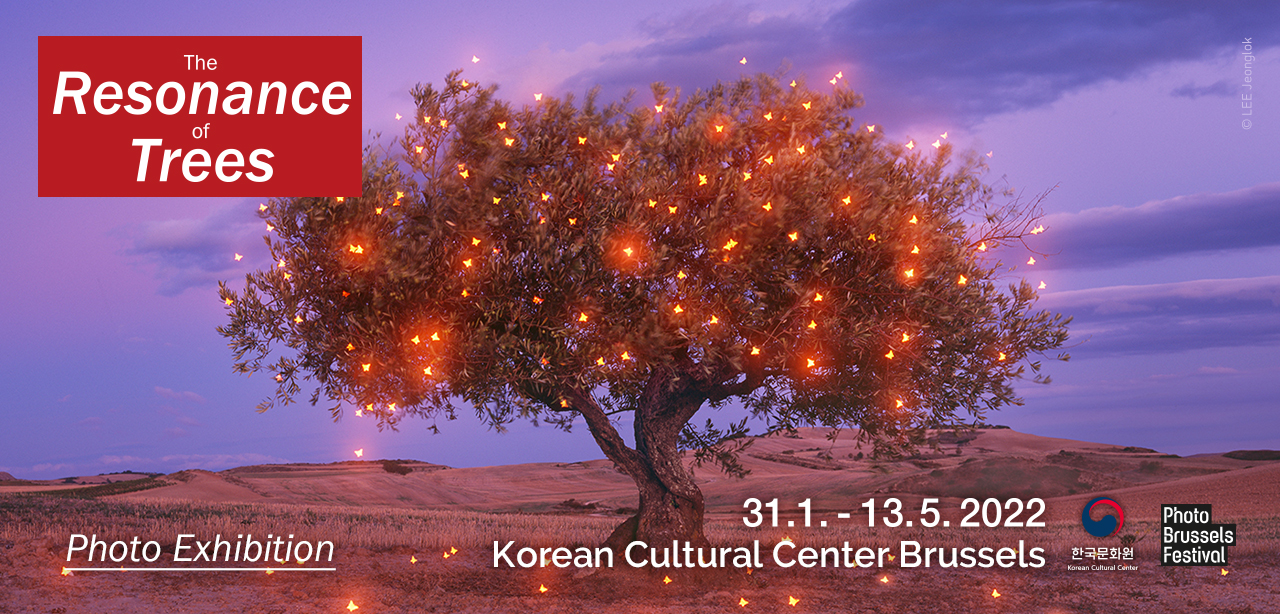 In collaboration with the Photo Brussels Festival, the Korean Cultural Center Brussels presents the photo exhibition "The Resonance of Trees" featuring four contemporary Korean photographers. Runs till 13 May 2022.
In this exhibition, 4 photographers ; KIM Jungman, KIM Sinwook, KIM Daesoo, LEE Jeonglok, with unique perspectives and experiences on trees tell the deep resonance of trees. Trees resemble humans in many aspects. The impression one gets from projecting onto the tree may vary depending on the recipient.
The four artists invited to this exhibition, KIM Jungman, KIM Sinwook, KIM Daesoo, and LEE Jeonglok, each have their own sentiment of trees that they want to picture on the frame. The tree of 'KIM Jungman', a participating artist at the 2022 Brussels photo festival, is a wounded being, and he thinks that the tree looks like his own lonely self. He communes with trees and wait 4 years until trees allow him to take pictures. After getting permission, he starts working on trees until he gets the image he wants. KIM Sinwook photographed trees from Korean to European forests that shine a light in the darkness. LEE Jeonglok discovers energy and vitality in trees, and furthermore, in his photographs, he expresses a place beyond the real world, such as a mythical world.
The exhibition, hosted by the Korean Cultural Center in Belgium, contains the deep reverberation that trees want to communicate and want to convey. Such times as now where it is difficult to realize that we are living in harmony with nature, we hope that you can find comfort even for a moment in the deep resonance of trees.
If you are not in Brussels and are interested in Korean cultural programmes - check out your local Korean Cultural Centre:
India: Korean Cultural Centre New Delhi
Germany: Koreanisches Kulturzentrum Berlin
Spain: Korean Cultural Center Madrid
Poland: Korean Cultural Center Warsaw
Viet Nam: Korean Cultural Center Hanoi
There are also Korean Cultural Centers in Japan, Indonesia, Philippines, China, Kazakhstan, Thailand, Australia, France, UK, Hungary and Italy.
Korean Cultural Centers are affiliated organizations of the Korean Ministry of Culture, Sports and Tourism. They have been developed to introduce Korean culture, art, history, and society to the host country and are intended to be a resource for building tourism and public interest in the Republic of Korea.