from - to
17 Dec 2012 - 21 Dec 2012
Bangkok | Khon Workshop for international artists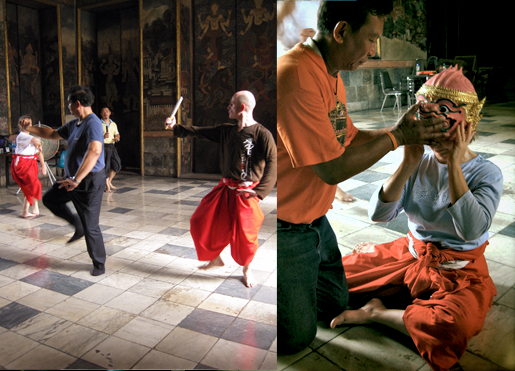 Arts on Location announces a 5 Days Intensive Khon (Thai Mask Dance Drama) Workshop from 17-21 December, 2012 at The College of Dramatic Arts, Bangkok, aimed at international performing arts practitioners. Arts on Location is delighted to announced that the application is now open for artists from all parts of the world to take part in the annual 5 day Intensive Khon Workshop, led by the great and nationally renowned masters of the prestigious College of Dramatic Arts, Bangkok. Designed for artists who have little or no knowledge of Thai theatre, this workshop is a skill-developing as well as a cultural programme aiming at performance artists and theatre practitioners, who have a strong interest in gaining good grounding and insightful knowledge in the art of Khon within its cultural environment, and context.
About Arts on Location
Arts on Location was established to promote and encourage the evolution of traditional Thai performance arts as well as other Eastern theatre traditions in local and international context. Through intercultural activities, educational practice, as well as performance creation and presentation, Arts on Location aims to create programmes which will serve as platforms for international artistic exchange, and dialogue.
About Khon
Khon is one of the most influential traditional performing arts of Thailand and has survived to this very day side by side with a variety of other traditional Eastern theatre practices, such as Noh theatre, Beijing Opera and Kathakali drama. These Eastern theatre traditions have inspired many internationally renowned artists such as Peter Brook, Ariane Mnouchkine and Eugenio Barba to develop their own unique style and innovative theatrical vocabulary at an international level.
5 Day Khon Workshop for International Artists
Suitable for Theatre/ performance art practitioners, namely dancers, actors, physical theatre performers, directors, choreographers and drama/performance Students (Undergraduates & Postgraduates) Arts on Location has organised this workshop in Bangkok for participants, who wish to experience and train in this traditional theatre form "on location", in order to discover the cultural context and environment in which this theatre practice was born and developed. Arts on Location's anthropological approach aims at providing not only a high quality theatre workshop but a well-rounded cultural experience as well.
About The College of Dramatic Arts Bangkok
The College of Dramatic Arts, founded in 1934, is the first national institute of education in Thailand, which functions officially as an arts college with an emphasis on the performance arts. The college has since produced many nationally renown artists, and masters of traditional Thai performance arts, and continue to maintain high level standard of training to date, providing education from elementary up to post graduate level. Date: 17-21 December 2012 Fees: 8,000 Bhts ( about 160 GBPs, 200 Euros, 260 USDs.) Minimum number of participants: 10
For More information
, please visit,
www.artsonlocation.net
or send an email to
info@artsonlocation.net
Facebook Page:
http://www.facebook.com/pages/Arts-on-Location/151421578286549
Member page
http://www.facebook.com/groups/31946669895/
To apply,
please send in your CV, and a letter with your statement of intention to
application@artsonlocation.net
Deadline for application 16 November, 2012