from - to
01 Oct 2017 - 14 Oct 2017
Bangkok | Goethe-Institut Pop-up Art Space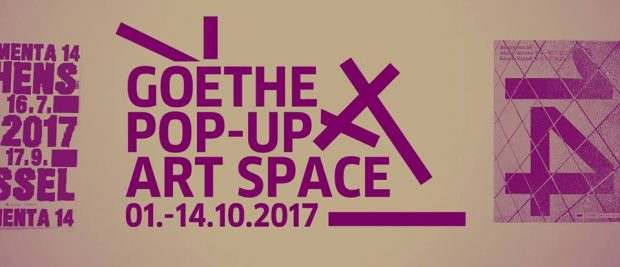 The Goethe-Institut Thailand together with Rai.D Collective would like to introduce part of the German art scenes and some different perspectives to the Thai audience with a "Goethe pop-up art space".
This art space will take place at Cho Why, Bangkok from October 1-14, 2017 when the space itself will be turned into a pop-up Goethe-Institut. (Free admission)
During the summer of 2017, many major art events have taken place in Europe - especially in Germany. Such events include the documenta 14 which is held every five years in Kassel and Skulptur-Projekte, held every ten years in Münster. This summer has seen the simultaneous staging of these major exhibitions which normally take place at different frequencies. In its function as cultural representation of Germany, the Goethe-Institut Thailand is particularly interested in movements and changes in the art scene which reflect or affect our society. It aims to introduce part of the German art scene and some different perspectives to the Thai audience with a "Goethe pop-up art space". The first item on the programme is a discussion entitled "
Art for the People?
– A discussion on how and why major international art events should be considered important". Together with the   audience, we would like to explore the art scene in Germany. Four Thai speakers will talk and exchange views on documenta 14 and other major art events of the year. The guest speakers are artists, art experts and critics who have all been present at the documenta 14 in Kassel, Germany and who would like to share their experiences and views on the event. In view of the fact that Thailand will be host to three major biennial art events next year (the Bangkok Biennial, the Bangkok Art Biennial and the Thailand Biennial, the speakers will also talk to the audience about these upcoming events. 
1 October, 16-19h
The pop-up art space will also be staging two different exhibitions not to be missed! The first is "Hungry Ghosts" by Albrecht Pischel, artist-in-residence at the Goethe-Institut Thailand. Albrecht Pischel has been investigating the complex Chinese folk tradition of joss paper (ghost money) and its burning as an offering to ancestors, gods and stray spirits: a tradition which is still very much alive in Bangkok's Chinatown today. In this exhibition, he presents an ephemeral installation based on his research and work with paper effigies. To round up, a lecture and an artist talk with Mr. Pischel and Ms. Maren Niemeyer, director of the Goethe-Institut Thailand, will introduce us to the projects Pischel has been working on during his artist residency in Bangkok. The second exhibition displays photographs by Ralf Tooten, a German photographer who has been living in Bangkok for more than 12 years. For this event, the photographer has selected a series of worker portraits which he took between 2007-2013. These photographs provide a fascinating look at the "worker bees" of globalization.
Both exhibitions can be seen 6-14 October.
The opening
 of the Goethe pop-up Art Space takes place at the Cho Why on October 5th, 2017 at 18.30h. Admission is free. Download
Press Release_Goethe Pop-up Art Space_ENG