from - to
01 Nov 2012 - 01 Nov 2012
[Asia] UNESCO World Heritage live webcast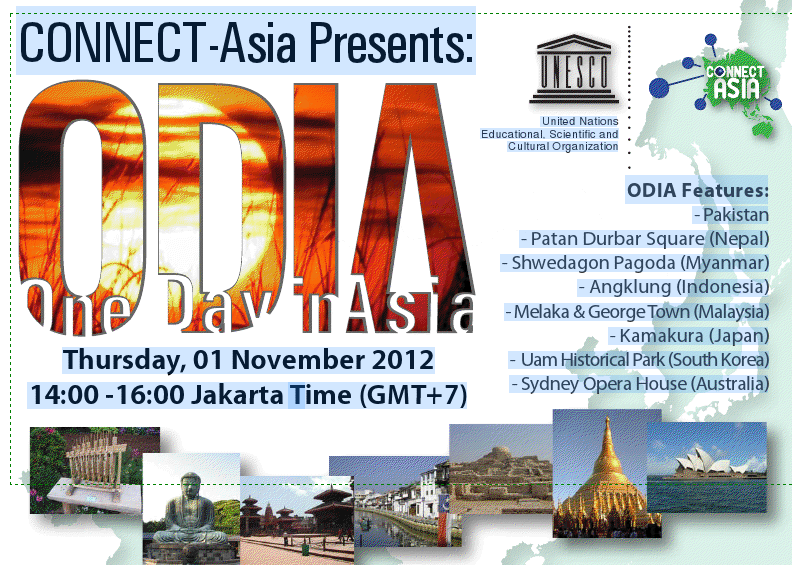 CONNECT-Asia presents a live stream broadcast from eight Asian countries on 1st November 2012, from UNESCO World Heritage sites, connecting viewers worldwide with Nepal, Myanmar, Indonesia, Malaysia, Japan, South Korea, and Australia.
Asia is vast. It stretches across almost half of the globe's circumference, occupying about 30% of the planet's land surface, the biggest of all the continents. Asia embraces distinct differences and a huge diversity of people, cultures and landscapes. Using the power of CONNECT-Asia ICT network and mobile technology which is spreading rapidly throughout Asia, we will bring you a unique experience unlike any other. We are going to live stream a broadcast from
UNESCO World Heritage
sites located in several countries where we have network partners. We will
go from noon in Nepal to night-time in Australia
, wrapping up
one whole day in Asia within the two-hour event
. That way we can truly experience "One Day in Asia"!
8 countries will present their beautiful sites to the world LIVE: Nepal, Myanmar, Indonesia, Malaysia, Japan, South Korea, and Australia! Don't miss this chance! Date:
Thursday, 1 November 2012
Time:
14:00 - 16:00 Jakarta time (GMT+7)
Australia's contribution will feature the Sydney Opera House:
Check website and your own timezone to catch this exciting event
Via culture360.org:  One Day in Asia | 1st November 2012 | live broadcast