Asia Arts Archive announces new platform - Mobile Library: Myanmar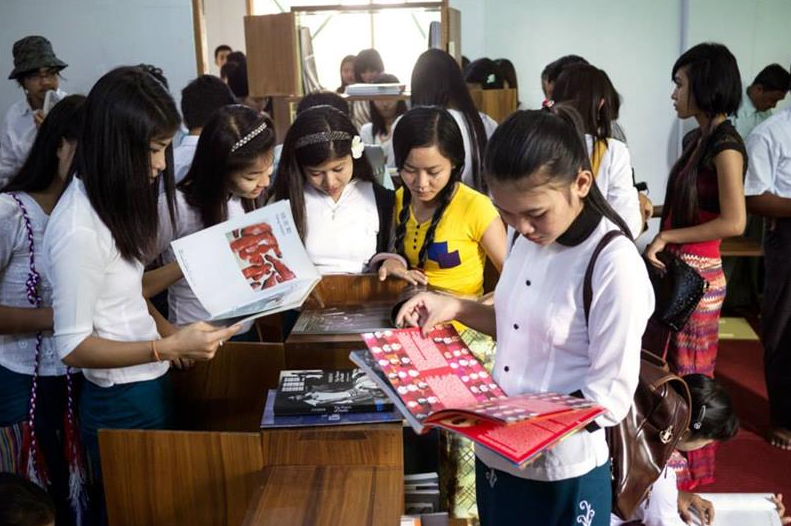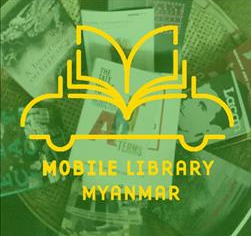 Asia Art Archive (AAA) and Myanmar Art Resource Center and Archive (MARCA) announce Mobile Library: Myanmar, a temporary collaborative platform for ideas exchange that will run from November 2014 to March 2015 in Yangon and Mandalay.
Mobile Library is a periodic initiative organised in partnership with cultural collaborators in different countries throughout Asia to provide a platform for the exchange of ideas. By co-organising events and enabling the circulation of printed matter, this programme activates new possibilities to engage with art as a form of knowledge.
Over 450 publications—from periodicals, artist monographs, and exhibition catalogues, to books on theory, philosophy, independent art spaces, curating, and archives—have been gifted to the emerging non-profit Myanmar Art Resource Center and Archive.
MARCA, having translated synopses for many of the books into Burmese, will circulate the entire book collection to Goethe-Institut, Myanmar Deitta, National University of Arts and Culture, New Zero Art Space, Pansodan Scene, and TS1 Gallery in Yangon before moving on to various locations in Mandalay.
Prior editions of the AAA Mobile Library have included Mobile Library: Vietnam with Sàn Art in Ho Chi Minh City (2011) and Mobile Library: Sri Lanka with Raking Leaves in Jaffna and Colombo (2013).
Mobile Library: Myanmar | Programme Highlights
Educational workshop (26–27 November, 2014) led by Jaffna-based artist and educator Thamotharampillai Shanaathanan at Yangon's National University of Arts and Culture.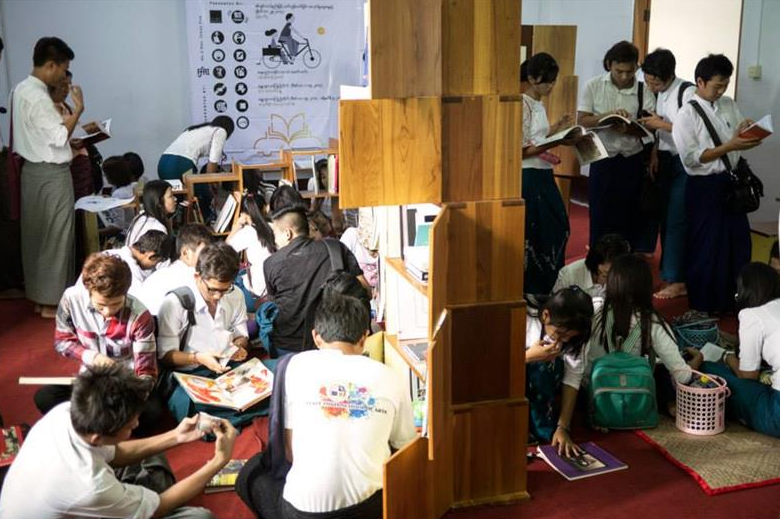 Panel discussion on archives (28 November, 2014) with Clark House Initiative's Zasha Colah and Sumesh Sharma; AAA Head of Research & Programmes Hammad Nasar; and Mobile Library: Sri Lanka participant Thamotharampillai Shanaathanan.
Digital archiving workshop (29 November, 2014) that will introduce and share standards, tools, and methodological approaches for digital archiving through case studies.
Open Call for materials on contemporary art in Myanmar to facilitate AAA's ongoing development of a dynamic, publicly accessible collection and resource sharing platform on recent art of Asia.
Free Parking is a new programme series that will run concurrently to Mobile Library: Myanmar. Located in the AAA library in Hong Kong, and featuring 'art libraries from elsewhere' in conversation with the AAA collection, the inaugural presentation will focus on books and related ephemera from past and present editions of the Mobile Library.
Special thanks to publications donors ArtAsiaPacific | John Clark | Green Cardamom | Institute of Contemporary Arts Singapore | Institute of International Visual Arts | Para Site | Raking Leaves | RogueArt | Singapore Art Museum | Sterling and Francine Clark Art Institute | TAKE on art | Tate | West Heavens | Yishu
Myanmar Art Resource Center and Archive (MARCA) aims to become the largest bilingual digital resource on the history and current state of Myanmar arts; to stimulate and nourish creative teaching and learning as well as provide research materials for students, teachers, artists, and the greater public. The center and archive will provide an environment for creative and analytical thinking in the country's time of transition, where the end of censored education and closed markets means the beginning of creative thinking and inter-regional and global exchange. MARCA was founded by artists Khin Zaw Latt and Zon Sapal Phyu along with researcher Nathalie Johnston.
Mobile Library: Myanmar is generously supported by Foundation for Arts Initiatives (FfAI) and Mr. & Mrs. Serge Pun.
Logo image (top): Mobile Library: Myanmar, 2014-15. Photo: Nathalie Johnston.
Launch images: Mobile Library: Myanmar, 2014. Photo: FluxKit. Courtesy Myanmar Art Resource Center and Archive (MARCA).