from - to
10 Sep 2020 - 10 Sep 2020
ASEF webinar: How relevant is cultural diplomacy in the face of a global crisis?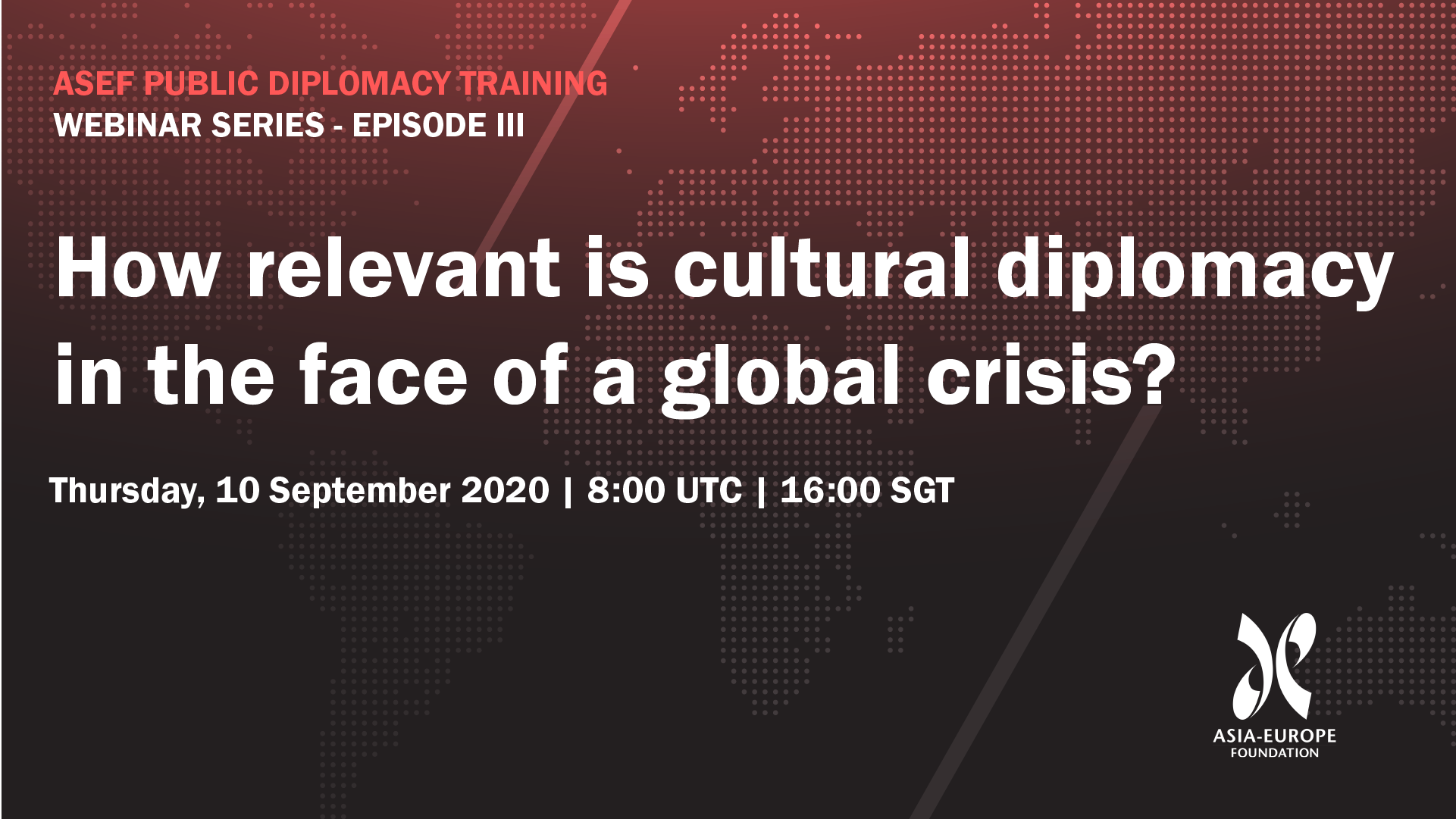 The Asia-Europe Foundation (ASEF) is organising a webinar on the importance of cultural diplomacy in today's global crisis.
Public diplomacy has long been nourished by tools such as digital and cultural diplomacy. However, the realities around us today beg the questions: does cultural diplomacy really matter at a time when nations are battling a major public health crisis? What new ways of conducting cultural diplomacy are emerging in response to the so-called "new normal"?
Cancellations of public gatherings have severely restricted face-to-face experiences, which are critical to effective audience engagement in cultural diplomacy. Yet, on the other hand, the arts have gone digital in a big way over the last months. Millions of people sheltering at home are relying on virtual concerts and museum tours to comfort and entertain themselves in these uncertain times. Have digital platforms therefore emerged as viable tools for cultural diplomacy? What have been the major benefits & pitfalls of digitalisation, not only for nation states but also, for artists and audiences?
Given the impact of the pandemic on our short to medium term future, what will cultural diplomacy between Asia and Europe look like in 3 years? What will its impact be in fostering deeper cultural and people-to-people exchanges between the two regions? How can diplomats and cultural practitioners adapt to this so-called 'new normal'? What opportunities and challenges await us in a post-Covid future?
Join us for a conversation with diplomats and cultural professionals online on 10 September 2020 at 16:00 SGT.
Register for free at: Zoom Online Registration
Speakers:
Amb Eduardo M.R. MEÑEZ
Amb Meñez is a second generation career diplomat who joined the Philippine Department of Foreign Affairs (DFA) in 1991. He has been assigned to the Netherlands, APEC in Singapore, the Philippine Mission to the UN in New York, Ambassador to Iran with concurrent jurisdiction over Turkmenistan and Uzbekistan, and then as Deputy Chief of Mission in Tokyo, Japan. He currently serves as Assistant Secretary at the DFA Office of Strategic Communications & Research (OSCR). In his present position, Amb Menez is in charge of coordinating the cultural and public diplomacy thrusts of the DFA in support of Philippine foreign policy. His varied assignments have provided an excellent foundation for understanding the importance of the unifying objectives of cultural diplomacy, particularly during this pandemic which requires physical separation.
Ms Marie LE SOURD
Ms LE SOURD is since 2012 the Secretary General of On the Move, the cultural mobility information network active in Europe and worldwide. Prior to this position, Marie Le Sourd worked in Singapore for the Asia-Europe Foundation (ASEF) from 1999 to 2006 and later, directed the French Cultural Centre in Yogyakarta, Indonesia from 2006 to 2011. She has, over the years, nurtured a knowledge pool on international cultural co-operation, funding schemes for the mobility of artists and cultural professionals, networks and web-resources. She is particularly interested in the multiple impact of mobility on artists and cultural professionals and evaluation process linked to these.
Amb Leon FABER
Amb FABER joined the Asia-Europe Foundation (ASEF) as its 8th Deputy Executive Director on September 1st, 2020. He is a seasoned career diplomat with nearly 30 years of experience. His previous postings include being Head of Mission, European Union Delegation to the Lao PDR; Deputy Secretary General, Ministry of Foreign Affairs in Luxembourg; Chargé d'affaires of Luxembourg, Embassy in Hanoi. He has worked in the areas of Human Rights, Health and Humanitarian Affairs and he has more than 20 years of experience in Development Cooperation. Amb FABER has always had a great interest in intercultural dialogue that he is happy to bring in to his current position.
The conversation will be moderated by Ms. Anupama SEKHAR, Director for Culture at ASEF.