25 Nov 2015 - 27 Nov 2015
5th Asian National Museums Association (ANMA) Conference | Singapore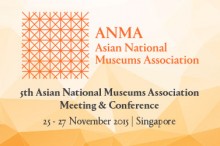 The
5th Meeting and Conference of the Asian National Museums Association (ANMA)
will take place in Singapore, 25-27 November 2015, organised by Singapore's
National Heritage Board (NHB)
, the
Culture Academy
and the
Asian Civilisations Museum
. The central theme of the conference is
"Balancing political history, ethnography and art. The role of a national museum"
. It will address the place of national museums, which play a significant cultural and nation-building role. They chart the histories of a nation and craft a place in global history for the peoples and communities they represent. In performing such important duties, the national museum often needs to consider the roles of cultures and communities which cross national borders and cultural objects that have been retooled and contextualized over different historical periods. In addressing the complex material histories of its collection and its role in building national narratives, the national museum often has to serve the role of a repository of national art, historical evidence and a platform for fair ethnographic representation. These are
often competing and difficult mandates to address and balance
. The conference will run daily between 2 and 6pm and
will be open to the public
. The keynote address will be delivered by
Dr Tan Tai Yong
, Executive Vice-President of the Yale-NUS College. In parallel to this, a closed-door meeting of the executive committee of ANMA will also take place.
ANMA was established as a network to promote exchange and co-operation among national museums in Asia
. Initiated by the National Museum of China, Tokyo National Museum and the National Museum of Korea in 2007, its membership covers major national museums in Asia or their administrative agencies. The current Chairperson of ANMA is
Dr. Alan Chong
, the Director of the Asian Civilisations Museum and Vice-Chair of ASEMUS. Currently a loosely organized association,
ANMA posits itself as a platform for the international promotion of Asian culture, the sharing of knowledge on collections and the exchange of information
, human resources and exhibitions. The association meets every 2 years, with the host country functioning as the secretariat for the association. For
additional information and registration
, please visit
http://www.anma2015.sg/