from - to
20 Sep 2014 - 20 Dec 2014
2nd 'One Touch' Netherlands Online Film Festival in China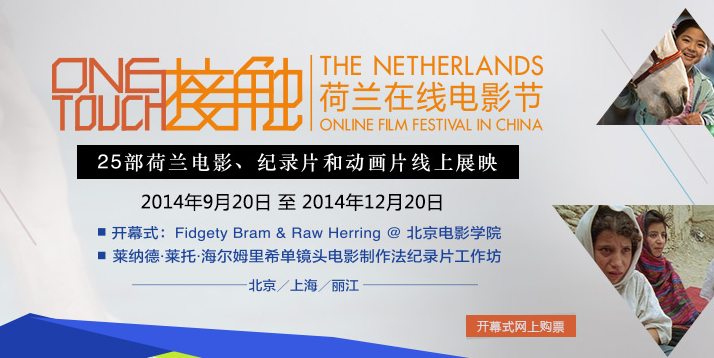 The second 'One Touch' Netherlands Online Film Festival brings 25 high quality Dutch films and documentaries to China. These productions are freely available online for three months, exclusively on
Tencent Video
, until December 20 2014. With productions by film director
Heddy Honigmann
and
Leonard Retel Helmrich
, the online film festival enables Chinese audiences to watch the best of Dutch cinema for the first time. The online film festival includes productions in a wide range of categories, including feature films, children's films, documentaries and short animations.
Co-production treaty
Dutch cinema is internationally recognized for its openness, inclusiveness and creativity. Earlier this year, China and the Netherlands signed a ministerial level memorandum of understanding, which includes film sector as one of the cooperation priorities for two nations. For the moment, a film co-production agreement is under official process between two countries, to extend Sino-Dutch exchange in film production with a focus on documentary production, children's film and animation.
Official opening
The official opening of the 'One Touch' Netherlands Online Film Festival took place on 20 September at the Beijing Film Academy (BFA). Two festival submissions - Fidgety Bram by Anna van der Heide and Raw Herring by Leonard Retel Helmrich - will be screened in the cinema of the film academy. This is a unique chance to watch Dutch film in a theatre in China. More information and events related to the "One Touch" film festival is available on the
Dutch Embassy's website
and social media accounts.
More information
The Netherlands Online Film Festival is an event by the Dutch representations to China, with contributions by the EYE Film Institute and organizational support from Beijing Channel Zero. The 'One Touch' Netherlands Online Film Festival was first held in 2013.