from - to
11 Oct 2023 - 13 Oct 2023
2023 ENCATC Congress: Artificial Intelligence Embraced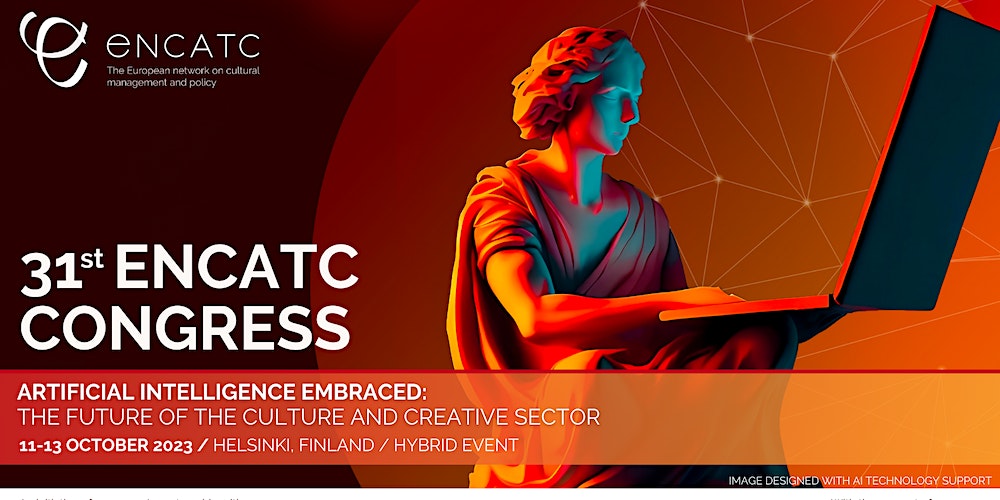 Centred on "Artificial Intelligence: impact on cultural policy, management, education and research", the 31st edition of the ENCATC Congress on Cultural Management and Policy will take place on 11–13 October 2023 in Helsinki, Finland.
When discussing artificial intelligence, both inside and outside the cultural sector, it becomes evident that questions rather than answers currently dominate the field: How is AI impacting our sector? How will AI change cultural policy, management, education, and research? How can we profit from it and grow with it? Is AI here to stay?
The Congress will provide a platform for researchers, educators, practitioners and policymakers to come together and discuss about the impact of Artificial Intelligence on the cultural field, with special attention to education and research.
It will feature keynote speakers, panel discussions, workshops, and networking sessions that will provide participants with a comprehensive understanding of AI and its potential for transforming policy approaches, management, research and education in the field of culture.
At the Congress, among others, participants will learn about AI applications in museums and galleries, performing arts, language learning, curriculum development, and virtual and augmented reality.
The Congress will be held in a hybrid format, combining online and in-person participation options.
Topics to be covered are:
The uses and impact of AI in cultural management and policy
The role of AI and digital transformation in the cultural and creative sectors and industries
AI in education and research: new opportunities and challenges
The role of AI in cultural preservation and heritage
Ethical considerations in AI development and application in education and research – including plagiarism, copyright and licensing issues
AI and the future of work in the cultural and creative sectors
AI and accessibility: ensuring equity and inclusion in the field of cultural management and policy