From rare orchid to rare textile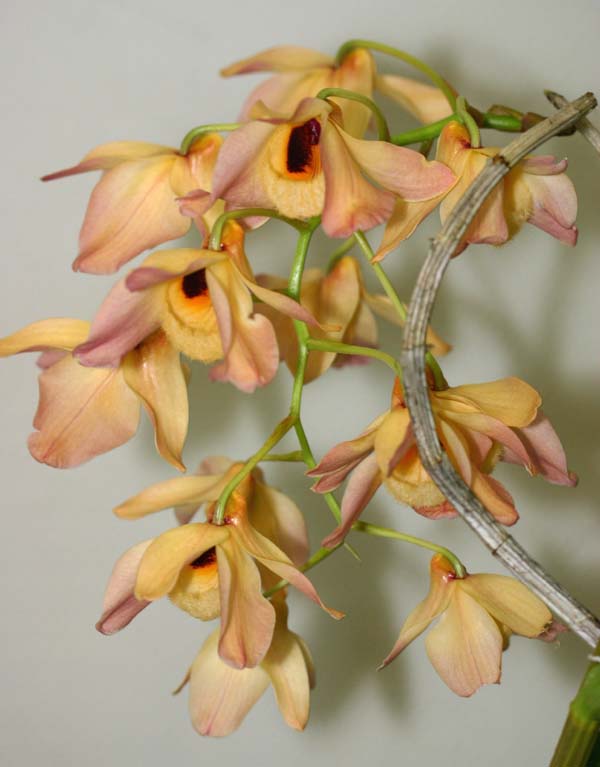 In 2017, culture360 invites you to get an insight on issues that are highly discussed in the cultural sector across Asia and Europe.
Through a number of in-depth articles and interviews, Magali An Berthon will focus on inspiring projects and personalities which make their mark on society through cultural and eco-conscious innovating initiatives. 
Myanmar is the home of more than 800 different species of orchids. A branch of the Kachin tribe uses an endangered species of orchid to produce fiber and create the most intricate embroidered patterns to adorn their garments. Dr. Saw Lwin from the Myanmar Floriculturist Association supports them in their development and the perpetuation of their craft.
[caption id="attachment_64354" align="alignleft" width="177"]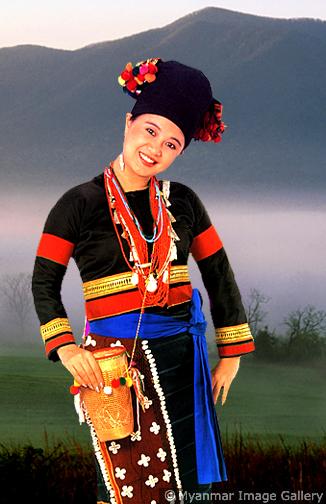 Myanmar image gallery[/caption]
Myanmar is the home of more than
800 different species of orchids
which blossom on the various landscapes from the Himalayas to the South territories, in Kachin, Chin and Shan states as well as in Mandalay. Dr Saw Lwin is one of the few orchidologists who have extensively studied native orchid plants in the country. He officiates as Vice President of the Myanmar Floriculturist Association and member of Myanmar Flora & Biotech Co in Yangon. Lwin has traveled all over Myanmar and has discovered a
unique textile practice
that uses orchid fiber mastered by the Lawngwaw, a tribe belonging to the largest Kachin ethnic group located in the north close to the Chinese border.
Kachin people encompass different sub-groups such as lisu, zaiwa, jinghpaw, rawang, lashi and lawngwaw. Each tribe has developed its own dress tradition with slight differences. Textile practices are traditionally a female task. The Lawngwaw women —also referred as Maru– are skilled weavers who produce highly decorated textiles and accessories, notably known for adorning their handwoven cotton garments and stachels with beads, shells and seeds. They also collect yellow-flowered orchids called
waso
from the
dendrobium moschatum
, an endangered species that grow from the Himalayas to mainland Southeast Asia and that they find in the villages' surroundings. They use the orchid long stems that can attain 1.5 meters long. These are not too brittle compared to other species, which makes it easier to scrap the inner layers and t
urn it into fibers as soft as silk
, as Dr. Saw Lwin explains it.
[caption id="attachment_64355" align="alignleft" width="238"]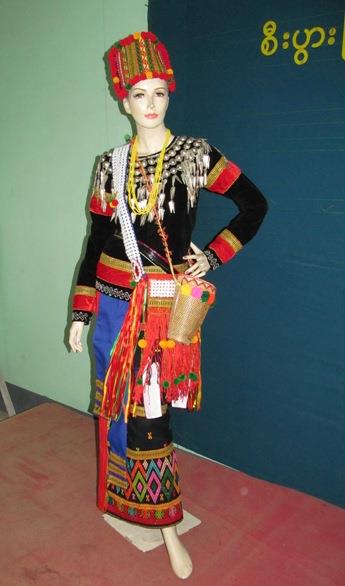 Myanmar Floriculturist Association[/caption]
[caption id="attachment_64356" align="alignright" width="237"]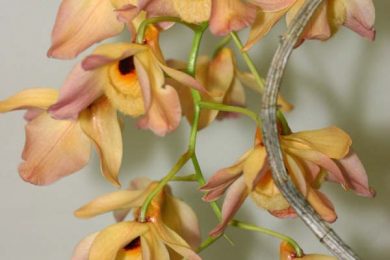 orchid-moschatum: wikimedia[/caption]
In the villages of Waingmaw district, women weave their own garments and adorn them  with bright yellow motifs embroidered with orchid fiber. They embroider them on the sleeves and hem of their black cotton jackets and at the bottom of their wrapped skirts called
longyis
. According to the expert, this ancestral technique goes back to 500 BCE. In the early 2010, the Kachin Women's Affairs Committee organized
training workshops
for villagers to help them develop a range of new decorative patterns and perfect the transformation process from orchid stem to fiber. Since then, Dr. Saw Lwin has been actively supporting these communities,
advocating for the conservation of orchid species as much as for the survival of this rare textile practice
. The costumes developed by Lawngwan women were exhibited at the 20
th
World Orchid Conference that took place in Singapore in 2011, and again in December 2016 at the British Council Craft Reveals conference in Chiang Mai, Thailand during the expert's talks.
Dr. Saw Lwin encourages Lawngwaw artisans to experiment on new designs. He hopes to bring awareness to the beauty of these golden adornments and recruit more embroiderers in the villages to continue the craft. Perpetuating this very unique practice is a holistic project that pursues environmental and cultural objectives.
Additional link:
Myanmar Floriculturist Association
https://www.facebook.com/Myanmar-Floriculturist-Association-537220443013456/