Cambodian contemporary dance: Amrita Performing Arts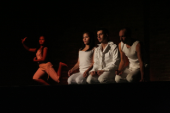 [caption id="attachment_2374" align="alignright" width="170" caption="AMRITA Performing Arts"]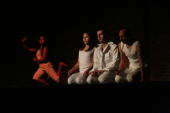 [/caption]
Duality of Impulses
AMRITA is a Sanskrit word that stands for eternity.
An omnipotent and bold word imbedded in the name and actions taken, and yet to be taken, by
Cambodia's young contemporary dance company, AMRITA Performing Arts.
AMRITA Performing Arts
is an international NGO based in Phnom Pehn
, Cambodia, whose primary objective is to
promote and sustain the revival and preservation of all forms of traditional Cambodian performing arts
. Its emphasis is on national capacity building in production management and administration.  Founded in July 2003 by
Fred Frumberg
, a former UNESCO Consultant, AMRITA has by far significantly contributed to transforming Cambodia's performing arts scene
as part of a community driven process,
which has proven this country's propensity for cultural regeneration.
An independent production company, AMRITA collaborates with various institutions and freelance artists in r
esearching and producing professionally staged traditional and classical performances both in Cambodia and abroad
, while developing and encouraging artists' expressive potential in contemporary theatre, dance and music through workshops, regional exchange programs and international tours.
According to Frumberg, a remarkable momentum has been achieved in the post war mission to revive and preserve Cambodia's great performing arts legacy. However, the young generation of performers are developing in very different ways as they become exposed to contemporary trends in a wide variety of cultures and confront their natural desire to innovate. The resulting
works have been strongly rooted in the traditions of their classical training from both sides of the divide.
As
Peter Chin
, guest choreographer for AMRITA, expressed his views on the company's challenges, "Amrita has situated itself in the tricky place of "producing traditional and classical performances while developing and encouraging artists' expressive potential in contemporary theatre, dance and music". This
duality of traditional and forward-looking
often results in artists feeling conflicting loyalties both personally and aesthetically. As such, the focus of Amrita has been to help young Cambodians deal with sometimes sharply contradictory impulses.  With Amrita's holistic mandate, it has nonetheless created a place where young artists are given opportunities to be grounded in their salvaged traditions, while providing experiences which encourage them to follow their impulses as developing artists. This way, they can progress towards manifesting the full potential as creative agents in Cambodia and the world in the 21st century.
Moving ahead into its seventh year, AMRITA Performing Arts is entering a new phase of development. Fred Frumberg, Artistic Director of Cambodia's AMRITA Performing Arts responds to the query of culture360'.org's Asia Performing Arts Correspondent, Vanini Belarmino below:
Vanini
:
Why did you choose the name "Amrita"? I am particularly keen to know since in Sanskrit it means "eternity."

Fred:
That's exactly why.  Eternity, meaning something that lives on forever despite any attempts to destroy it.
Vanini:
Could you elaborate further on the vision statement – specifically that pertaining to "national capacity building in production management and administration"?  Does this mean that the revival and preservation of all forms of traditional Cambodian performing arts lies heavily on developing strong cultural leaders/administrators?
Fred
: When I first came, I had to find the right balance between what the Cambodian performing arts scene actually needed versus what I as a professional in production management had to offer to that process.  What they needed was to restore lost forms of dance and theatre and replace lost repertory.  My experience is in production management and I needed to focus on what I thought I could possibly leave behind.  To that end, it was crucial that any help I gave in the artistic preservation process always included at least the most basic level of teaching all aspects of production and stage management even if it was indirectly through on-the-job training.
Vanini
:
If so, what are the odds for an independent organisation such as Amrita in developing cultural leaders to influence the way of thinking in a patrician culture that of Cambodia?
Fred:
That's a different aspect and we're talking about two different things.  Training in production management so that local practitioners can take responsibility for managing their productions is one element.  In shifting towards contemporary dance and theatre, we are trying to give young artists the tools they need to make artistic choices that are based on real and current desires of artistic expressions; allowing them to forge a path forward to following their natural instincts as creative entities, while observing and respecting the traditions that have been resurrected by their teachers and for which they have a responsibility of carrying forward.  To that end, they are balancing two very important objectives as they move forward as cultural leaders.  I see it as our responsibility in the work that we produce, to help nurture both objectives at the same time.
Vanini:
When you decided to establish Amrita in 2003, was funding already available?
Fred:
Prior to that I was UN Volunteer with UNESCO. I had wanted to move away from them and set up my own independent organisation but I was victim to the fact that I had no funding for such an endeavour.  The only reason that setting up Amrita was even possible was because I had secured funding from the Rockefeller Foundation otherwise it never would have been an option.
Vanini:
Within a short period of its establishment, it appears that (from my perspective at least), that Amrita has fast-tracked its achievements both locally and internationally, how do you think you can sustain these accomplishments in the next five or ten years? Are you following specific measures for this?
Fred:
This is the ultimate question keeping me up (literally) at nights.  After five years, Rockefeller under new leadership is no longer funding culture in SE Asia, which means I have lost the primary source of our admin expenses.  Funding projects is not actually my biggest concern but how to keep our office and dance studio open and support my small staff has become an enormous dilemma.  I am in the process of bringing on three new board members with whom we are having an emergency meeting at the end of January during which I hope we will devise a new strategy to ensure the next five-year vision.
Vanini:
You mentioned that in comparison to Thailand, Indonesia and Malaysia – that Cambodian artists are more vulnerable to external influences particularly in the performing arts (due to the givens i.e. history) – how different is it?
Fred:
This question stems from my little knowledge of the performing arts practice in Cambodia. Nonetheless, having a bit of exposure or communication with two of the dancers from Amrita namely Chey Chankethya (Kethya) and Chumvan Sodhachivy (Abelle) – who were participants in ASEF's "Pointe to Point" in Japan and Poland respectively– my impression is that they have such a solid classical background even though there are several external "contemporary" approaches that can potentially influence them. In fact, their form or dance language is rooted strongly from their tradition and may even be too predominant to be influenced.
I did not say that Cambodians are more vulnerable than their regional counterparts.  I said they have less experience in contemporary dance than their counterparts in Thailand, Indonesia and Malaysia.  It is indeed as you say because of their strong roots in classical dance and their strong commitment to upholding the work of their masters in reviving the lost dance forms, that they are much better placed to create contemporary dance that is strongly rooted in their traditions.  This was proven when we presented our new work "Khmeropédies" at the WDA conference in New Delhi a few weeks ago when everyone was hailing the piece as a very important example of Asian contemporary dance that remains true to its roots and not trying to "Asianize" Martha Graham.
The young generation of performers are developing in very different ways as they become exposed to contemporary trends in a wide variety of cultures and confront their natural desire to innovate.
The result in dance is a growing community of young men and women who are excited and inspired by modern forms of dance and want to incorporate new ideas into their creative palette.  They already possess the technical skills to make this transition into the more contemporary forms relatively easy.
These young dancers need and deserve a voice.
While many are becoming bolder in challenging their teachers and working independently of the ministry of culture, Cambodia remains a patrician culture where cultural precepts are handed down and democracy has little part to play in cultural institutions.  Young Cambodians look to foreigners and NGO's to assist them in transitions of this kind, as it's often foreigners who have the resources necessary to facilitate the process and to advocate successfully. 
Amrita has become a major catalyst in helping these young artists find their voice and move their creative drive forward in a proactive, nurturing and culturally sensitive environment.
Photo credit:
AMRITA Performing Arts dancer Sodhachivy "Abelle" Chumvan together with Ava Maureen Villanueva (Philippines), Pavlos Kountouriotis (Greece) and Rain Saukas (Estonia) performing together in Paulina Wycichowska's (Poland) choreographic sketch for ASEF's Pointe to Point in Warsaw, Poland, December 2006. Photo: Sylwia Kujawska.
About the Writer:
Vanini Belarmino is a Berlin-based producer and curator specialising in interdisciplinary exchange and cross-border collaborations. She is the Founder and Managing Director of Belarmino&Partners, an international project management and promotions consultancy for arts and culture  < http://www.belarminopartners.com