Can artists make a difference in the climate change debate?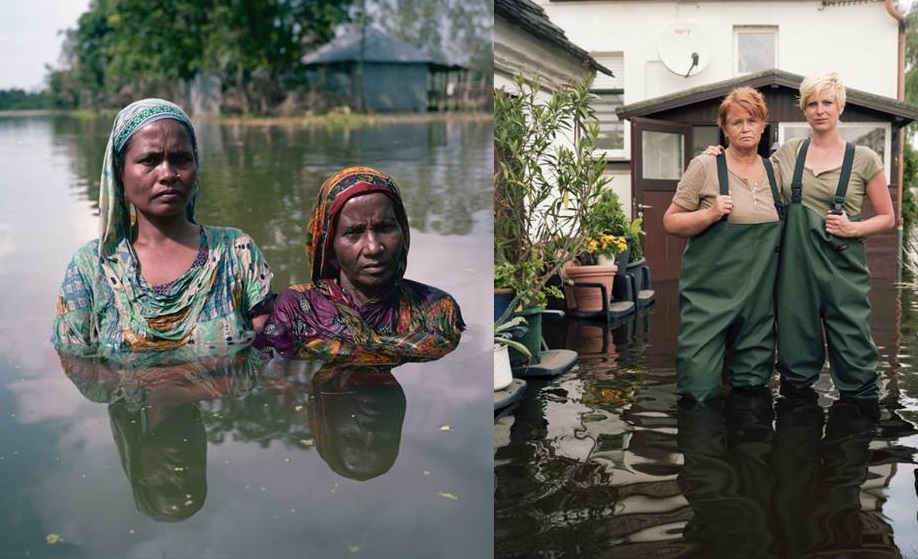 From 30 November to 11 December 2015, countries will gather in France to discuss the climate at the United Nations conference on climate change (COP21). In the lead-up to this event, ASEF culture360 took the opportunity to talk to 3 organisations working in the intersection between art and environment to question what role artists can play in the climate change debate.

[caption id="attachment_56224" align="aligncenter" width="620"]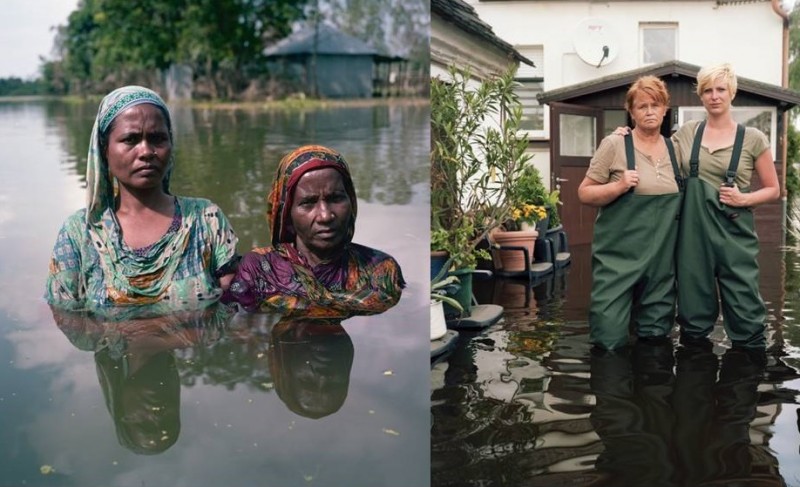 Gideon Mendel, Drowning World (Bangladesh), outdoor exhibition in Paris Gideon Mendel, Drowning World (Germany), outdoor exhibition in Paris[/caption]



Bridging the gap between knowledge and action

[caption id="attachment_56226" align="aligncenter" width="413"]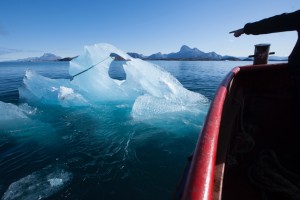 Olafur Eliason, Ice Watch in Place du Pantheon from 3 December[/caption]

There are artists throughout history who have created work that reflects the challenges of their time, using their creative practice to think about their environment and the world around them. However, with the increasing severity of the impacts of climate change, it is now timelier than ever to consider what role artists can play in engaging with the climate change debate.

Artists 4 Paris Climate 2015 is an initiative based in France that brings together 13 artists from around the world to present art projects in public spaces during COP21. The programme is designed to embody some of the key issues and opportunities of climate change, as well as instigate action by raising money for NGOs focusing on climate change (especially desertification) in Africa, the Middle East, Asia and Latin America through an art auction at Christie's in Paris.

When addressing the role of artists in the climate change debate, Artists 4 Paris founder Didier Saulnier stated that 'Most people still don't see what is at stake with climate change, or what can be done. Visual artists have the power to create metaphors that could open the eyes of public opinion through experiences and emotions. This is what art can bring to science.'

[caption id="attachment_56236" align="aligncenter" width="434"]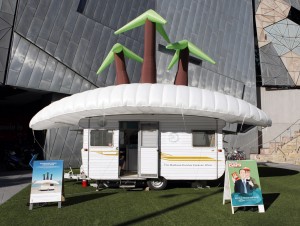 Søren Dahlgaard, Maldives Exodus Caravan Show, Melbourne, 2015[/caption]

Guy Abrahams, co-founder of Australian organisation CLIMARTE agrees that artists help to change opinion about climate change.

'The thing is that we do have the science, we do have all that information, and we have had it for 20 or 30 years. It has unfortunately (to date) not made a sufficient impact on enough people to create the sort of action that science demands. And what is clear to us is that there is a gap between knowledge and action. There is a gap between empirical knowledge that science gathers and the policy and personal action that is demanded in terms of a response. What the arts can do is create the empathy to bridge that gap, create the personal response…as humans we feel motivated to act when we both understand the rational basis for what we're doing and from an emotional, engaged personal basis.'

Abrahams co-founded CLIMARTE in order to inform, engage and inspire action on climate change through providing a platform for exchange of ideas and creating an alliance of organisations and artists working in the area. One of their key events was the Climate + Art = Change Festival in April and May 2015, that brought together climate-change-related arts and ideas featuring curated exhibitions, alongside a series of keynote lectures and public forums with local and international guests.

For Abrahams, the power of the arts lies in its ability to question the values we take for granted. 'The arts is about posing questions, it's not necessarily about providing answers. But you've got to pose the questions to start with, and pose questions which aren't about facts and data, but are about our values, how we want to live, how we feel, what's important in our lives – those values that are fundamentally important to us, but which we take for granted day-to-day.'

Charlotte Webster, founder of Human Nature (a British organisation that works with a wide range of artists and art projects which explores our connection to the natural world), also believes in the ability of artists to provoke a change in attitudes.

'True change will only come about if we merge the worlds of arts and science; the power of creativity in cultural change is huge. Traditional communication alone is not going to help us reach the tipping point we need regarding the environment. We respond to both emotional as well as rational messages, and art has a unique role to play in this as well as tapping into people's deep intellectual consciousness.'

By reaching out to people through their personal context and through their emotions, the arts can inspire them to change and take action - something that is vital if we are to reverse, or even have a small impact on, the possible consequences of climate change.

[caption id="attachment_56231" align="aligncenter" width="399"]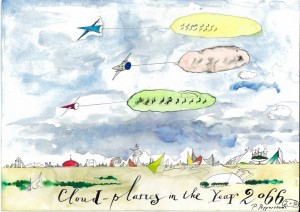 Pavel Pepperstein, Cloud Planes / Flying Shells in Paris for COP21[/caption]

Supporting artists to work beyond their comfort zones

When talking about the Artists 4 Paris programme, Saulnier explained that they were looking for artists who could reach out to a wide audience.

'For us what is at stake here is not the planet, but humanity: so we didn't go through "green artists" but "humanists" and "media forces" to instigate the broadest public opinion. For the first six months of 2014 (yes, we began that early!), we evaluated around 100 international artists and finally contacted around 50 of them. More than 30 accepted the invitation to participate - some with an amazing level of commitment, far beyond their "comfort zones".'

Saulnier highlighted that working with the artists has been an ongoing process and that, even if they are not presented in Paris, Artists 4 Paris will continue to work with these artists to bring their work to fruition in the near future.

CLIMARTE is also collaborating with artists who do not normally work in the area of climate change. In an upcoming project, the CLIMARTE Poster Project, they will commission 10 artists to design posters analysing how and why Australia needs to transition from a fossil-fuel-based economy to more renewable energy sources. They will print and place thousands of posters around Melbourne in April and May 2016 in spaces typically allocated for music promotional posters, and will exhibit these posters in a gallery space. The aim is to reach out to different audiences who observe the posters on the street. However, working on climate change issues is also new for the artists, as they do not consider themselves environmental artists. CLIMARTE organized a workshop for the artists to discuss key issues in the area of climate change; however, the workshop was more to engage with the topic and not necessarily forcing the artists to represent these facts in their pieces.

Abrahams explains that 'many artists have a clear artistic practice and feel that, because they don't actively work in this area all the time, they can't, and that's just wrong.' The Poster Project challenges these artists to experiment with the topic, even if it lies outside the boundaries of their normal artistic practices.

By reaching out and engaging with artists who do not normally work in the area of climate change or environmental issues, both Artists 4 Paris and CLIMARTE are widening the discussion. They are able to create a space which is welcoming for artists who, perhaps, feel intimidated to engage with these topics as it is not something integral to their practice.

[caption id="attachment_56235" align="aligncenter" width="423"]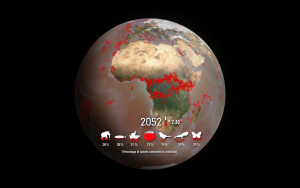 Debbie Symons, Counting One to Four: Nature morte, 2015, (video still)[/caption]

Getting involved in the discussions

Art has always played a role in the way cultures view and think about issues of their time, but this approach is constantly changing. As Saulnier points out, the way artists are engaging with climate change is evolving.

'There is no clear "movement," as in the 70's with environmental art…but some artists have changed their means of action. Possibly the best example is Olafur Eliasson. In 2003, he reached global recognition with The Weather Project at Tate Modern, and this was followed by his artwork Waterfalls in NYC in 2008. In 2012, with engineer Frederik Ottesen, he decided to act with Little Sun, a global non-profit project aiming at providing safe and affordable solar light. North to South and the IPCCC 5th report in October 2014 in Copenhagen gave him (alongside geologist Minik Rosing) the idea to create Ice Watch. These two projects, which will be re-activated in Paris for COP21, show how frontiers between visual art, design and science could coalesce in the near future for more artists.'

For Saulnier, stepping out of the gallery context and connecting to diverse avenues of communication has great potential for artists. 'What has changed more broadly, especially compared with COP15 Copenhagen in 2009 where an artist like Tomas Saraceno was already present but in the "white cube" of a Danish institution not in public space, is the impact of social networks - information goes faster and stronger. We hope more and more visual artists will seize the historical importance of their engagement on this defining issue of our time to move from the "white cube" to social networks and street action, to provide the strength as media to the broadest audience. We also hope there will be more collaborations between science and visual artists "turning knowledge into action".'

Abrahams also supports the view that artists can work outside the gallery and become more involved in public debate. 'I think artists and creative people generally should be much more directly involved and engaged with all sorts of decisions and decision-making and planning. So whether it's science or business or property development or infrastructure, I think the creative mind can see things in a very different way and I think that it's really important to have that input in a lot of the discussions and decisions that go on in society.'

Webster notes that artists have indeed become more involved in these public discussions. 'Yes, artists have definitely become more engaged.' She further observes that this also includes working closely with organisations to bring about changes in attitudes. 'Importantly it's happening at an institutional level now, with fossil fuel money being increasingly rejected and leadership being recognised at a political level. Creatively we only need to look at the big Ice Watch installation in Paris for COP21 to see how things are changing. It's reassuring to see the likes of Greenpeace and others working with installation artists too, particularly on their arctic drilling campaign.'

Most importantly for Webster, artists need to focus on the opportunities for our future. 'In the future, I would like to see climate change science put engagement through arts at the very top of their agenda and to not focus on fear but hope. This last point is absolutely crucial. We will only act if we feel inspired, celebrating what we cherish.'

[gallery ids="56242,56241,56240,56239,56238,56237,56236,56229,56230,56231,56232,56233,56234,56235,56228,56227,56226"]

Events presented by Artists 4 Paris:



Janet Laurence's Deep Breathing /Resuscitation for the Reef about coral bleaching and ocean's acidification at MNHN, from 16 Oct to 14 Dec



Ernesto Neto and the Huni Kuin Amazonian Indians, bringing their unique relationship to "Mother Earth"


Yan Toma's Human Energy on Eiffel Tower, 5 to 12 Dec


Yin Xiuzhen's Sky Puzzle, which has involved 20 embassies and cultural centres in Paris for a piece being built in Beijing and which should be presented at CDG airport by COP21



Dan Perjovschi will "draw the line"


Tomas Saraceno will bring the dream of "Aerocene" at Grand Palais, from 4 to 10 Dec, the longest 0 CO2 thermodynamic flight around the world, and a climate lookout







CLIMARTE will also present Australian artist Debbie Symons's "Counting One to Four: Nature Morte" from 12 November to 9 December 2015 at the Galerie Prodromus.

Claire Rosslyn Wilson is a poet and non-fiction writer who focuses on writing about arts and multicultural topics. She has eight years of professional experience in resource development and the arts and has worked with international and non-profit organisations in Thailand, Singapore and Australia. She has had her work published in various journals and, in 2014, she undertook fellowship at the Wheeler Centre to develop a book of poems. You can follow her exploits on Twitter @clairerosslyn.