On the Move's Cultural Mobility Yearbook 2022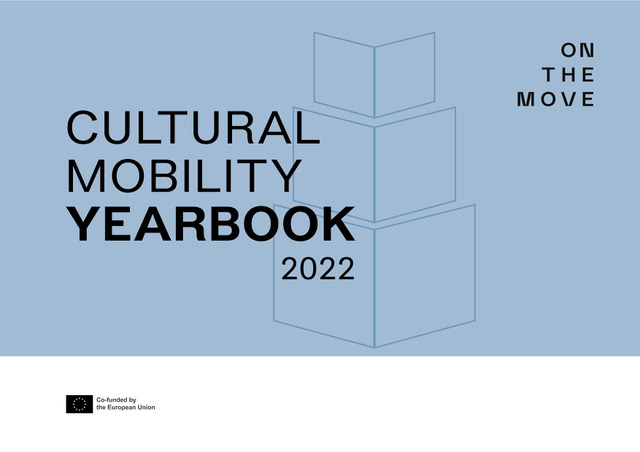 On the Move has published their new annual publication: a Cultural Mobility Yearbook.
The Yearbook is conceived as a way to delve into the numerous calls and resources that On the Move collects and promotes on a daily basis. Data was extracted from On the Move website in order to analyse and identify trends, and to build context around emerging and more familiar issues in the mobility field. It will be updated and revisited every year (in relation to world regions, disciplines, and mobility formats) while investigating an annual theme. In 2022 the focus is on digital mobility.
In addition to the collected data, On the Move commissioned articles from arts professionals Andre Le Roux, Managing Director, IKS Cultural Consulting and Head of the Concerts SA Project (South Africa), and Chiara Organtini, performing arts curator and researcher (Italy), as well as founding President Mary Ann DeVlieg.
Some themes and insights
Covid-19 caused widespread disruption, but in-person mobility has continued. In spite of cancelled or adapted activities, in-person mobility still made up the majority of activity within the data for 2021 (70.6%).
Digital mobility is growing. 29.4% of calls in the data from 2021 were for digital/remote activities or for a mix of online and in-person work – more than in 2020. If 'online' was a country, it would have been the largest mobility destination in 2021.
The Asian region covered a number of divergent situations in terms of cultural mobility, but in south-eastern and eastern Asia, Japan, South Korea and Singapore have continued to be very active. In 2021, Japan accounted for around a quarter of all digital/remote/mixed calls in Asia, and half of those in East Asia.
In Europe, Northern and Western European countries were big drivers for digital mobility, particularly with funding support from cultural export bodies. Where opportunities in 2020 concentrated more on presenting or adapting existing work, in 2021 the focus has shifted to commissions and project funding to create new digitally native works.
Formats are becoming more complex, however some activities are not well suited to online work. Things that slip through the virtual cracks include opportunities to work with community groups (offered by only 1.9% of online/hybrid calls), to access archives and collections (1.9%), or to see work by peers (3.1%). Collaborative artistic work is channelled into meeting and exchange formats rather than live co-creation.
Additionally, digital mobility takes place within existing structures. Most 'new' initiatives or formats that arose in 2021 were adaptations of ongoing programmes or reallocations of existing funding.
Read the full Yearbook here.